Single Leg Training is a movement pattern that is often overlooked in many training programs.Â
Exercises that allow you to train one side of your body individually are great for unilateral strength development while allowing you to identify any imbalances between the two legs.Â
Furthermore, single leg training lends itself to many real-world applications as we are constantly using one leg to accomplish many tasks.
---
---
FRONT RACK STEP UP FORM VIDEO
BENEFITS OF THE FRONT RACK STEP UP
The Front Rack Step Up strengthens the entire leg musculature including the quads, the hamstrings, the glutes as well as the core muscles
Provides a great low impact alternative to the Squat movement pattern
Improves overall total body balance through the single leg
MUSCLES WORKED DURING THE FRONT RACK STEP UP
Quadriceps
Adductors
Glutes
Core
Upper Back
PERFORMING THE FRONT RACK STEP UP WITH GOOD TECHNIQUE
Obtain two dumbbells and position them on your anterior shoulders with your elbows pointing forward and outwards
Stand approximately 6-12 inches away from a bench/stand/sturdy chair
The bench should at a height equivalent to the height of your knee
Place one foot on the bench, ensuring that your working leg is at a 90-degree angle to the floor and your back leg is completely straight
Squeeze your glutes and keep your core engaged
Keeping your upper body as stable as possible, begin driving your front foot into the bench
Keep your knee in line with your toe (do not allow any medial translation of your knee)
Try your best to not push off or use any momentum with the back leg
Once your front long is fully extended, begin the descent in a smooth controlled fashion
Again do not let your knee have any deviation from its neutral position
It is easier to complete all of the repetitions in one leg before moving on to the next
COMMON MISTAKES
USING TOO MUCH MOMENTUM
This movement works best in a controlled manner. Focus on using the front leg for the majority of the exercise. Try not to push off the back leg.
BENDING AT THE SPINE
The bench height is probably too high or you are using too much weight. Your spine should remain erect.
NOT KEEPING YOUR KNEE IN LINE WITH YOUR TOES
Always keep your knee in line with your toes. This is the most efficient position for your knee and provides a mechanically safe movement pattern.
HOW CAN I INTEGRATE THE STEP UP INTO MY TRAINING?
Check out The WCT Best Workout Template For Busy Professionals to find a simple way to add the front rack step up and other great exercises into your routine.
FRONT RACK STEP UP ALTERNATIVES
---
---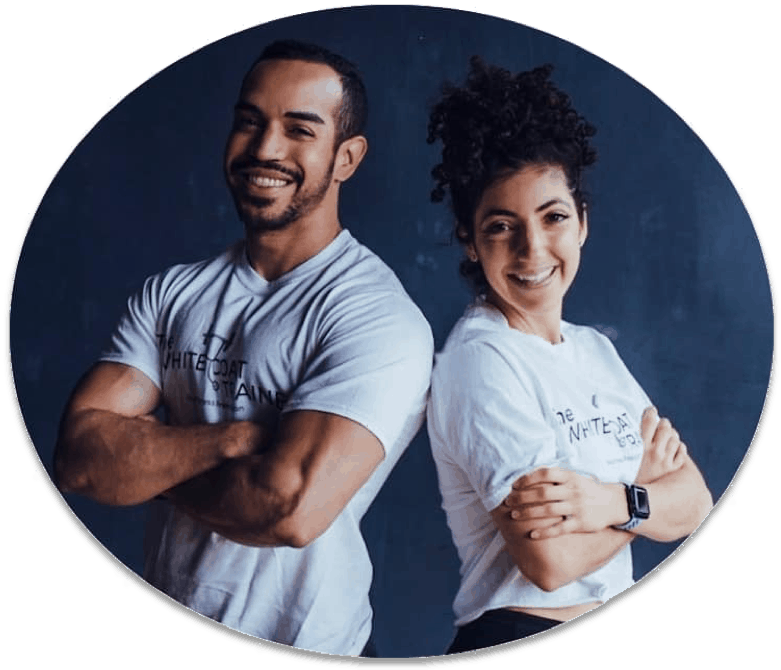 Alex Robles, MD, CPT / Brittany Robles, MD, MPH, CPT
Alex & Brittany Robles are physicians, NASM Certified Personal Trainers, and founders of The White Coat Trainer: a resource dedicated to improving the health and fitness of busy professionals using time-efficient strategies. Their advice has been featured in My Fitness Pal, Prevention, Livestrong, Reader's Digest, Bustle, The Active Times, and more. Learn more about them here.
---