If you could only do one exercise, it would be the squat. It is the king of all exercises and has several different variations.  Anyone at any experience level can find a squat variation that they can perform.
This tutorial will cover the barbell back squat.
---
---
BACK SQUAT FORM VIDEO
BENEFITS OF THE SQUAT
Ingrains appropriate squatting mechanics for everyday tasks such as sitting and standing
Improves mobility in the hips, ankles, knees and thoracic spine
Encourages strength development of the quadriceps, hamstrings, glutes and abdominal muscles which improves lean muscle mass and fat burning
MUSCLES WORKED DURING THE BACK SQUAT
Quadriceps
Hamstrings
Glutes
Adductors
Core
Low Back
Upper Back
PERFORMING THE SQUAT WITH GOOD TECHNIQUE
Approach a barbell that is set up in a power rack at the mid-chest (above the nipple) level
Set your grip on the bar just outside of shoulder width with your thumbs wrapped around the bar
Dive underneath the bar and position it on the natural shelf created between your trapezius muscles and the top of your scapula
Squeeze your scapulae together without shrugging and maintain this position throughout the entire lift
Stand up to the weight and take up to three steps back to position your feet just outside of shoulder width
You can point your toes straight, or angled out 15-30 degrees
Take a big breath, brace your core, and begin the movement by simultaneously bending at the hips and knees until your depth is just 'below parallel'
'Below parallel' means that your hip crease is below the top of your knee when looking from the side
Keep your feet flat on the floor, your core braced, and your back flat
Keep your head neutral
If you cannot reach below parallel without maintaining good form, then only go as low as you can. Over time, you will develop the mobility to reach proper depth.
Reverse the movement by pushing straight back up with even pressure across your feet
Exhale at the top of the lift and squeeze your glutes to finish extending your hips
Maintain a flat neutral spine throughout the movement
COMMON SQUAT MISTAKES
NOT KEEPING YOUR FEET FLAT ON THE FLOOR THROUGHOUT THE LIFT
Causes excessive wear and tear of the knee joint
This may indicate that you lack sufficient range of motion in ankle dorsiflexion (commonly seen in women who often wear high heels)
Stretch your calves and practice ankle dorsiflexion
You can also practice squatting by elevating your heels with a heeled squat shoe or by standing on 2.5 lb plates
ALLOWING YOUR ANKLES TO COLLAPSE INWARD AT THE BOTTOM OF THE SQUAT
Causes upstream collapse of stable hip and knee alignment
Try pointing your toes forward more and accentuating your natural arch
Focus on creating external rotation in your hips and keeping your weight evenly distributed across your big toe, pinky toe and heel
ALLOWING YOUR KNEES TO CAVE INWARD ON THE ASCENT
Causes excessive wear and tear of the knee joint
This can be a technical issue or
This may indicate a lack of glute and hip external rotator activation.
Lower the weight and focus on keeping your knees aligned with your toes and engaging your glute muscles
FAILING TO KEEP A NEUTRAL SPINE
Increases the risk of spinal injury
This can be a technical issue or
It can indicate a weakness in the abdominal muscles
Keep your chest up and upper back tight throughout the lift
Brace your core by taking a breath full of air prior to squatting and lower the weight until you can maintain a neutral spinal alignment
---
SQUAT VARIATIONS
---
---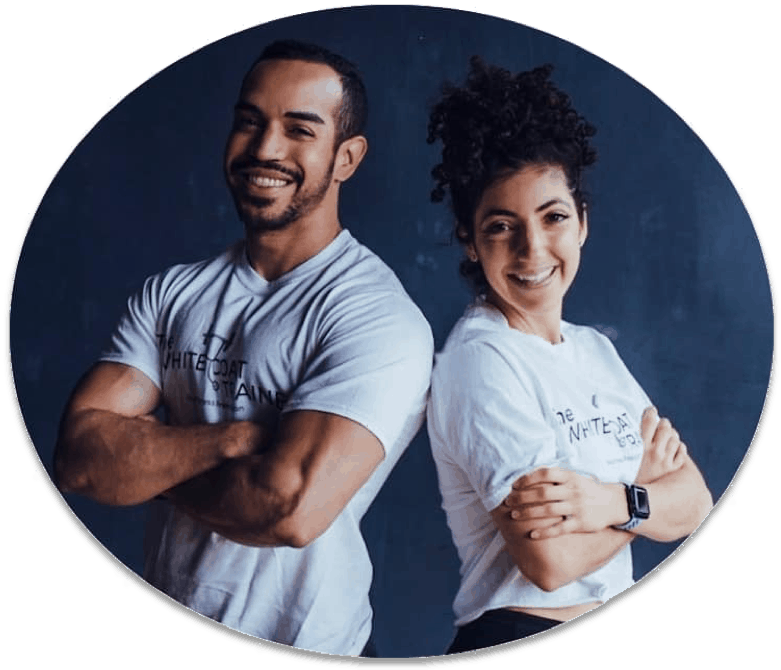 Alex Robles, MD, CPT / Brittany Robles, MD, MPH, CPT
Alex & Brittany Robles are physicians, NASM Certified Personal Trainers, and founders of The White Coat Trainer: a resource dedicated to improving the health and fitness of busy professionals using time-efficient strategies. Their advice has been featured in My Fitness Pal, Prevention, Livestrong, Reader's Digest, Bustle, The Active Times, and more. Learn more about them here.
---