INTRODUCTION
Single Leg Training is a movement pattern that is often overlooked in many training programs. Exercises that allow you to train one side of your body individually are great for unilateral strength development while allowing you to identify any imbalances between the two legs. Furthermore, single leg training lends itself to many real-world applications.
Disclaimer:
Although we are doctors and personal trainers, we are not your doctors. The content on this site is for informational purposes only and should not substitute the advice from your healthcare professional. All kinds of exercise and dietary activities are potentially dangerous, and those who do not seek counsel from the appropriate health care authority assume the liability of any damage or injury which may occur. Please read our full Disclaimer for more information. Also, this post may contain affiliate links: meaning we may receive a commission if you use them.
Okay, let's get started.
---
---
DUMBBELL ROMANIAN DEADLIFT (SINGLE LEG) FORM VIDEO
BENEFITS OF THE DUMBBELL ROMANIAN DEADLIFT
Strengthens and tones the hamstrings, glutes, and low back muscles unilaterally
Teaches cores stability and improves overall total body balance
Exposes any potential imbalances that exist from side to side
MUSCLES WORKED DURING THE DUMBBELL ROMANIAN DEADLIFT
Hamstrings
Glutes
Low Back
Spinal Erectors
Upper Back
Core
Forearms/Grip Muscles
PERFORMING THE DUMBBELL ROMANIAN DEADLIFT
Pick up two dumbbells and position them in front of your body.
Set your stance with your feet close together and your feet pointing forward
Ideally, you should use flat sole shoes such as Converse Chuck Taylors, Nike Metcons, or Rebook Crossfit Nanos, to maintain a stable foot position. Any shoe with a squishy sole will not allow you to transfer force adequately from your feet to your hips.
Stand up tall and brace your core
Begin the movement by bending at the hips (NOT the spine) and pushing your butt backward
Simultaneously lift the non-working leg straight behind you as you continue to bend at the hips
Do not let the leg deviate out to the side. Keep it straight behind your body
Keep the working leg relatively straight with a slight bend in the knee
The dumbbells will help you keep your balance, keep lowering the weights down in front of your body as you continue bending at the hips
Stop once you feel a strong stretch along the hamstring of the working leg
Keep your core engaged, as you will need to stabilize your body in this position
Do not let you spinal alignment change. Only go as far as you can keep your back straight.
Once you reach your end range, reverse the movement by extending at the hips and returning the non -leg back down next to your working leg as you are exhaling
I

t's easier to keep working the same leg for the desired amount of reps before switching sides
COMMON MISTAKES
EXCESSIVELY BENDING THE KNEE OF THE WORKING LEG
The Romanian deadlift is primarily a posterior chain exercise. The majority of the emphasis should be placed on the hamstring muscles. If your knees are bent, the quadriceps get more involvement then is necessary
BENDING AT THE SPINE
There are no circumstances where your spine should bend. Maintain your spinal alignment at all costs. Lower the weight if necessary
LOSING ALIGNMENT OF THE BACK LEG
When lifting the non-working leg behind you, try your best to keep it aligned directly behind your body. Letting it deviate to the left or right will change your spinal alignment and distort appropriate balancing
CHALLENGE
Perform 50% of your bodyweight for 8 repetitions each leg
HOW CAN I INTEGRATE THE DUMBBELL ROMANIAN DEADLIFT INTO MY TRAINING?
Check out The WCT Best Workout Template For Busy Professionals to find a simple way to add the dumbbell romanian deadlift and other great exercises into your routine.
DUMBBELL (SINGLE LEG) ROMANIAN DEADLIFT ALTERNATIVES
---
---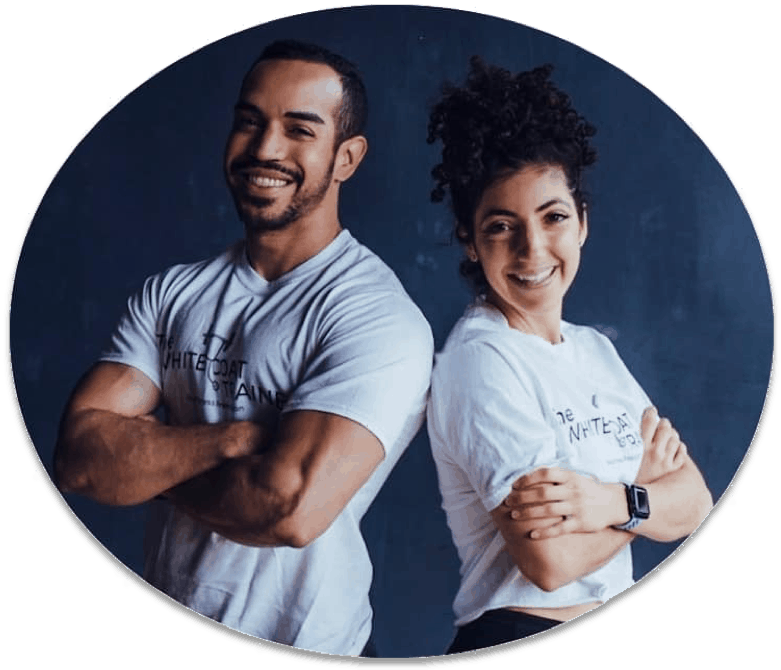 Alex Robles, MD, CPT / Brittany Robles, MD, MPH, CPT
Alex & Brittany Robles are physicians, NASM Certified Personal Trainers, and founders of The White Coat Trainer: a resource dedicated to improving the health and fitness of busy professionals using time-efficient strategies. Their advice has been featured in My Fitness Pal, Prevention, Livestrong, Reader's Digest, Bustle, The Active Times, and more. Learn more about them here.
---