Many lunge variations exist, each with its own unique set of benefits.
The front rack reverse lunge is one of the best variations. It trains the entire leg musculature while incorporating strength and stability in the upper body and core.
Let's go over how to do it properly.
Disclaimer:
Although we are doctors and personal trainers, we are not your doctors. The content on this site is for informational purposes only and should not substitute the advice from your healthcare professional. All kinds of exercise and dietary activities are potentially dangerous, and those who do not seek counsel from the appropriate health care authority assume the liability of any damage or injury which may occur. Please read our full Disclaimer for more information. Also, this post may contain affiliate links: meaning we may receive a commission if you use them.
Okay, let's get started.
---
---
FRONT RACK REVERSE LUNGE FORM VIDEO
BENEFITS OF THE FRONT RACK REVERSE LUNGE
This exercise trains each leg individually, exposing and improving any potential imbalances that exist from side to side.
The front rack position creates an entirely new challenge as the weight is pulling you forward, causing you to keep the core muscles engaged.
It also improves overall core and hip stability and total body balance.
MUSCLES WORKED DURING THE FRONT RACK REVERSE LUNGE
The front rack reverse lunge trains the following muscle groups:
PERFORMING THE FRONT RACK REVERSE LUNGE WITH PROPER TECHNIQUE
Pick up two kettlebells (dumbbells are okay, but kettlebells are better) and hold them at your sides (you could also use just one kettlebell as well)
Use momentum to 'clean' the kettlebells onto your anterior shoulders with the bells facing outwards
Keep your elbows high and in front of you the entire time, with your hands close together by your neck
At this point, the kettlebells should be resting comfortably on your upper arms
Stand up tall and set your feet at a stance closer than shoulder-width, with your feet pointing forward
Brace your core
Begin the movement by stepping back directly behind you while doing your best to keep the other foot pointing straight ahead
Once you are on the ball of your foot of the back leg (with the heel off the ground), begin bending at the knee of the front leg
It is okay to let your knee translate forward over your toes, but do not let your knee move inwards
Keep your spine neutral, and your core braced throughout the lift
Once the knee of your back leg touches the floor lightly, you have reached the endpoint
When looking from the side, your front knee should be at a 90-degree angle to the floor (aka 90-degree hip flexion)
Reverse the movement by extending the knee of the front foot and slowly returning the trailing leg to the starting position
Do not allow any lateral translation of the working knee at any point
Do not allow any change in your spinal alignment – keep your torso neutral
It is easier to keep working on the same leg for the desired amount of repetitions before switching sides
COMMON MISTAKES
NOT KEEPING YOUR TORSO UPRIGHT
Allowing excessive rounding or arching of your spine can predispose you to low back pain.
Brace your core and maintain this tightness throughout the repetition.
Focus on keeping your upper body entirely still while going through the lunge.
Lower the weight if necessary; you do not need a heavy load to experience all the benefits of this exercise.
ALLOWING LATERAL TRANSLATION OF THE KNEE INWARD
It is permissible to have forward movement of the knee over the toe but not an inward direction.
This pattern is prevalent among trainees and puts a lot of stress on the meniscus and medial ligaments.
Lower the weight if necessary to keep the knee well aligned with the rest of your joints
---
By the way… if you want to see a complete list of all the best exercises for every body part, check out our E-book: The Best Compound Exercises For Your Entire Body!
In it, you will find complete written descriptions on how to do each movement with proper form, plus a video tutorial for each exercise!
---
OTHER RELATED QUESTIONS
What's the difference between front lunges and back lunges?
The main difference between the forward and the reverse lunge is the muscle group that is emphasized. Foward lunges focus more on the quadriceps, whereas reverse lunges focus on the glutes and hamstrings.
Are front or reverse lunges better?
Of the two exercises, forward lunges are much more difficult as your center of gravity changes. Also, forward lunges tend to work your quads more than reverse lunges.
Reverse lunges are easier to learn and place less stress on the knee joint. As a result, reverse lunges are better for glute and hamstring activation.
Are reverse barbell lunges good?
You can also perform reverse lunges with a barbell. The main advantage of using a barbell is that you can load the exercise heavier than with dumbbells.
A barbell front rack grip (i.e, holding the bar in the front of your body) will emphasize your core and upper back more so than if the barbell were on your back.
Here is Brittany performing a reverse barbell lunge.
What about Walking Lunges?
Walking lunges are another great variation that will improve your single-leg strength, balance, coordination, and flexibility. With that said, make sure to use a load appropriate to your strength level, as walking lunges can place a lot of stress on your knees if you do not perform them correctly.
If you suffer from knee pain, avoid walking lunges.
INTEGRATING THIS EXERCISE INTO YOUR ROUTINE
Want to know how to use this exercise in your workout? Check out The Best Workout Template For Busy Individuals to learn how to integrate it into your training!
CHALLENGE
Perform 50% of your body weight for 8 reps on each leg
FINAL WORDS ON REVERSE LUNGES
The front rack reverse lunge is one of my go-to exercises for unilateral training. It will help you develop stability, motor control, and an improved range of motion at the hips.
Moderate loads are sufficient to experience all the benefits this great exercise has to offer!
FRONT RACK REVERSE LUNGE ALTERNATIVES
Check out my tutorials for other unilateral exercises below.
---
---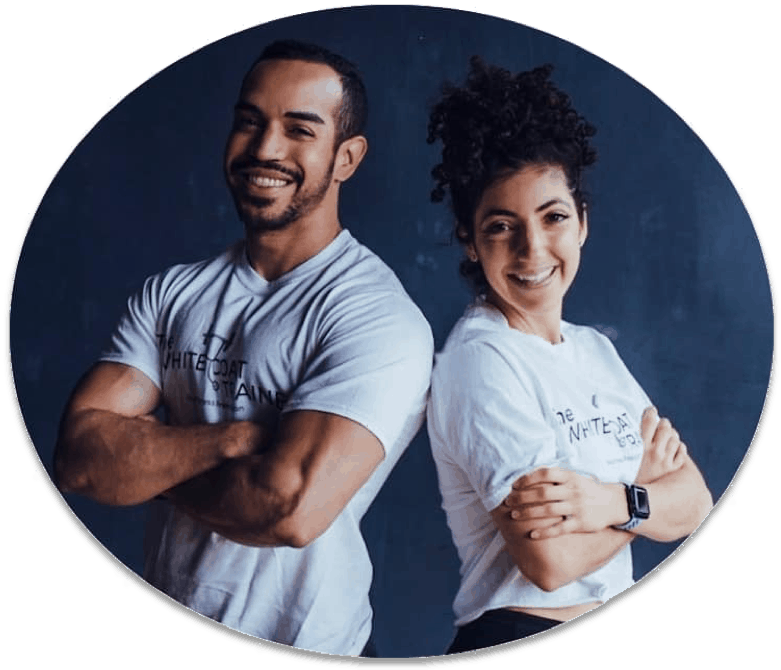 Alex Robles, MD, CPT / Brittany Robles, MD, MPH, CPT
Alex & Brittany Robles are physicians, NASM Certified Personal Trainers, and founders of The White Coat Trainer: a resource dedicated to improving the health and fitness of busy professionals using time-efficient strategies. Their advice has been featured in My Fitness Pal, Prevention, Livestrong, Reader's Digest, Bustle, The Active Times, and more. Learn more about them here.
---