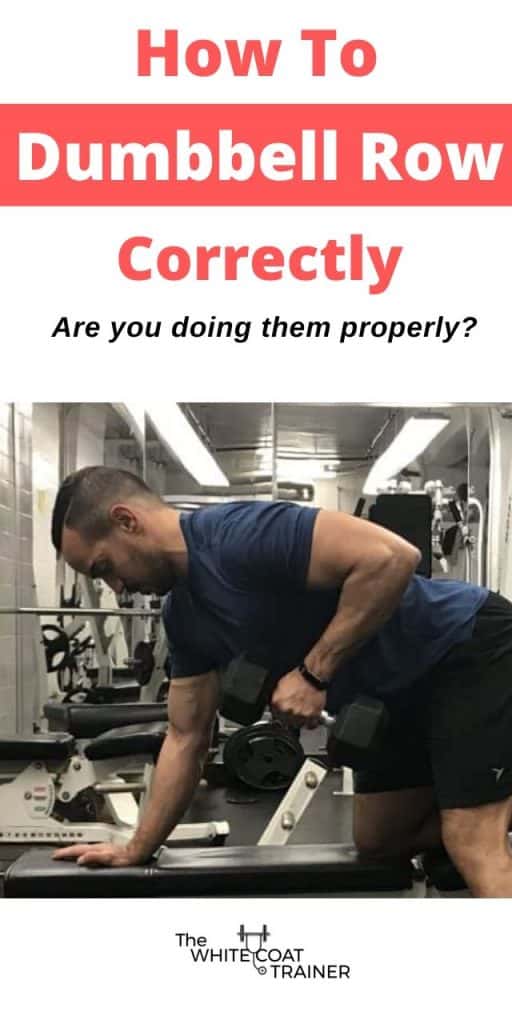 INTRODUCTION: ONE ARM DUMBBELL ROW
The bent-over one arm dumbbell row is one of the most basic yet fundamental exercises in the fitness library.
This compound exercise strengthens numerous muscle groups including the posterior shoulder, the upper back, and the latissimus dorsi.
As simple as this exercise is, many people perform it incorrectly.
Today's post will go over the proper way to perform the dumbbell row and how to use it to get the best results.
Disclaimer:
Although we are doctors and personal trainers, we are not your doctors. The content on this site is for informational purposes only and should not substitute the advice from your healthcare professional. All kinds of exercise and dietary activities are potentially dangerous, and those who do not seek counsel from the appropriate health care authority assume the liability of any damage or injury which may occur. Please read our full Disclaimer for more information. Also, this post may contain affiliate links: meaning we may receive a commission if you use them.
Okay, let's get started.
---
---
ONE ARM DUMBBELL ROW FORM VIDEO
BENEFITS OF THE SINGLE-ARM ROW
Strengthens the upper back muscles including the rhomboids, the mid-trapezius, the posterior shoulders and the latissimus dorsi, as well as your grip and forearm muscles
Helps improve a rounded shoulder position which results from poor posture (and excessive use of the bench press)
Places less stress on the lower back compared to the barbell row as you can do this exercise with an external base of support
MUSCLES WORKED IN THE DUMBBELL ROW
Rhomboids
Posterior Deltoids
Mid-Low Trapezius
Latissimus Dorsi
Forearms/Grip
Biceps
PERFORMING THE ONE ARM DUMBBELL ROW WITH CORRECT FORM
Grab the desired dumbbell and place it next to a standard weight bench
Place your knee and outstretched hand on the bench, and bend forward until your upper body is parallel to the floor
Do your best to maintain a natural flat posture throughout the entire time
Reach down to grab the dumbbell, and immediately resume a flat neutral position of the spine
This is what the starting position should look like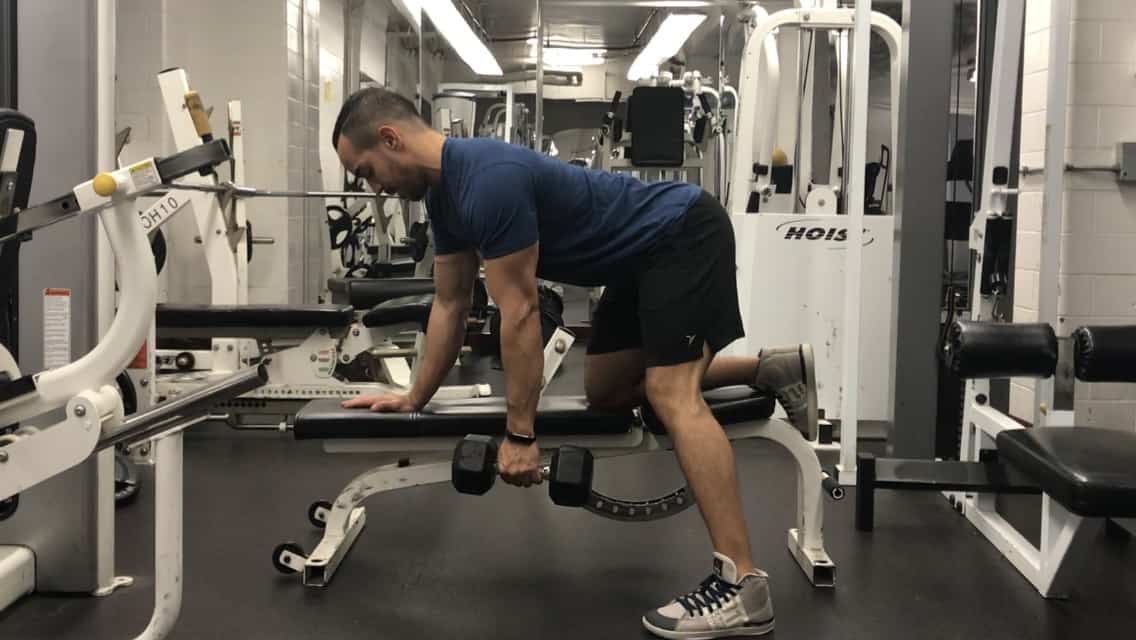 Ensure that your neck is also neutral (this means looking down, not up or forward)
Keep your core muscles activated at all times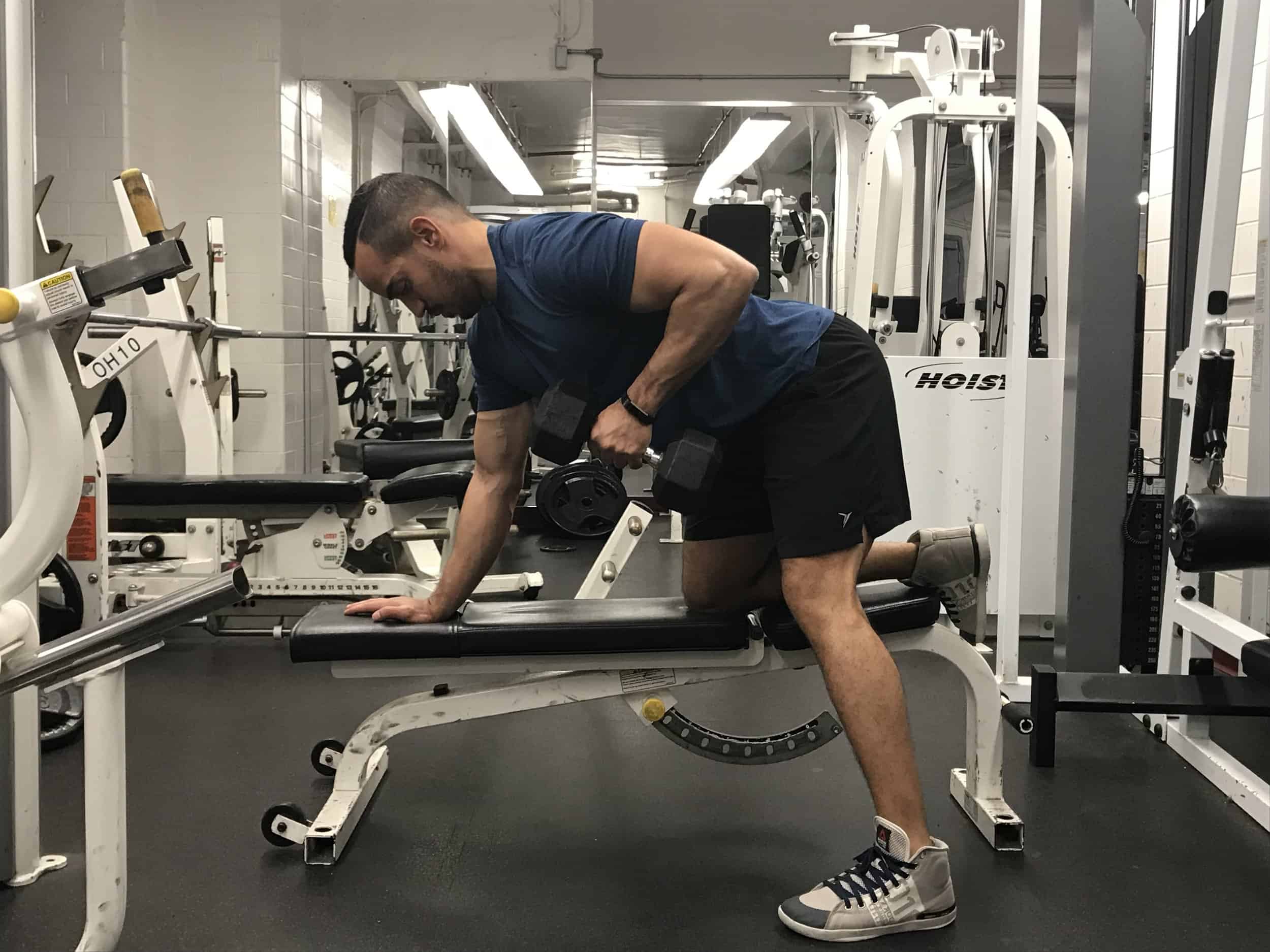 This is where the most common mistake occurs: Initiate the row by

Squeezing your lat muscles
Driving your elbow up towards the ceiling
Actively retracting your shoulder blade towards your spine
If done correctly, the dumbbell should touch the lower part of your rib cage and your elbow should not go much higher than the level of your back
Also, avoid excessive rotation of your torso when rowing the dumbbell up
When reversing the movement, do not let your shoulder blade protract all of the way down. Keep some level retraction in your scapula at all times.
Repeat on the opposite side.
*Note: It's common to be stronger on one side of your body compared to the other. I'm stronger with my right hand (which is my dominant hand). In this case, I will intentionally do 1 or 2 fewer reps on the right side so that I can achieve an equal amount of volume with my left hand.
HOW TO TARGET THE LATS MORE
Alternatively, you can modify the exercise target the lat muscles a bit more by changing the angle of your row.
Instead of rowing the dumbbell to your lower chest as seen above, you can row the dumbbell toward your waistline.
Either approach is fine, and it's good to mix and match as you see fit.
THE BENT OVER DUMBBELL ROW
If you do not have a bench to use as support, simply place your outstretched hand on a stable surface (like a dumbbell rack). Place your feet shoulder-width apart in line with each other, not a staggered stance.
The remainder of the exercise should be performed exactly the same as described above
Keep your back flat, your neck neutral and your focus on your lats and shoulder blades.
The One Arm DB Row is just one great exercise among the many you should be doing
To see a list of them all, be sure to check out our E-book that goes over all of the best compound exercises for each body part!
We also go over them all in The Best Compound Exercises of All Time.
COMMON MISTAKES YOU SHOULD AVOID
USING TOO MUCH MOMENTUM
The most common mistake is using excessive momentum.
When the weight starts to get heavy, it is inevitable to use a little momentum. With that said it's really easy to get carried away.
If your back is excessively rotating, or you need a lot of momentum to initiate the movement, then the weight is too heavy.
Use a lighter weight and force yourself to pause at the top of the repetition for a 1 count.
Then slowly lower the dumbbell using a 2-3-second tempo.
USING YOUR ARMS TO ROW THE WEIGHT
Again, it is important to use your lats and your scapula to bring the weight up, and not your biceps.
If you don't actively focus on using your back muscles, then you are wasting your time.
This is the case if you primarily feel this exercise in your biceps.
The best way to do this exercise properly is to focus on retracting the shoulder blade and pulling the dumbbell closer to your waistline.
INTEGRATING THE SINGLE-ARM DUMBBELL ROW INTO YOUR WORKOUT ROUTINE
Want to know how to use this exercise in your workout?
The dumbbell row is an example of a great horizontal pulling exercise.
We show you how to use it in our WCT Workout Template.
Which you can download for FREE!
And check out our post The Best Workout Template For Busy Individuals to learn how to use it!
FREQUENTLY ASKED QUESTIONS
I DON'T FEEL THE DUMBBELL ROW IN MY BACK
This is a common problem. The dumbbell row is for the back, not your biceps. If you only feel this exercise in your arms, then you are performing it incorrectly.
Squeeze your lats, bring your elbow to the ceiling, and retract your scapula. Also, focus on rowing the dumbbell closer to your waistline rather than your chest.
Your bicep will inevitably be involved in the movement, but you should also feel your back muscles working when you use proper form.
DO I NEED TO DUMBBELL ROW ON A BENCH?
The bench is the easiest way to perform the dumbbell row exercise, however, it can be performed on any sturdy surface.
Check out the dumbbell bent-over row above.
ARE DUMBBELL ROWS EFFECTIVE?
Yes, but only if you do them properly. Don't make the mistake of using a weight that is too heavy.
This will force you to use momentum and too much biceps. Focus on activating and using your back muscles as I described above.
OTHER DUMBBELL ROW VARIATIONS
The dumbbell row is a versatile exercise. There are many different ways you can use this simple exercise to target your back.
Chest Supported Row/ AKA Incline Rows
One variation that you can perform is the Chest Supported Row. This exercise requires an incline bench. To do it, you lay flat on your chest while rowing the dumbbells up towards the bench.
You may be able to use heavier weights with this variation.
ELBOW OUT DUMMBELL ROW
You can also use different angles to change up the stimulus.
For example, you can flare your elbow out 90 degrees rather than tucking it up towards the ceiling.
That dumbbell row variation with flared elbows will emphasize the posterior shoulder muscles more.
TWO ARM DUMBBELL ROW
You can also do this exercise with two arms. One option is to do the chest supported row as seen above, or you can do a standing dumbbell row.
The problem with the second option is, you won't have anything to hold on to for support. As a result, the two-arm dumbbell row will work your lower back some as well.
The risk of injury is higher if you aren't able to maintain good form.
This may not be a problem for you, but I'd rather focus on the direct upper back work when doing rows, and use deadlifts for lower back work instead.
RENEGADE ROWS/PLANK ROWS
You can also do renegade rows/ aka plank rows. This exercise is primarily a core strengthening exercise, with a little upper back work.
DO DB ROWS WORK ABS?
They do, but not to a large extent. I wouldn't rely on rowing exercises to train your core muscles effectively.
The exception is the renegade row/plank row shown above.
CAN I DO ONE ARM DUMBBELL ROWS AT HOME?
Yes, but you will need some type of equipment. To replicate the exercise exactly, you will need dumbbells.
I personally have the Bowflex adjustable dumbbells and I love them. Although they are a bit pricey (check Amazon for the current price.)
Alternatively, here are a bunch of Back Exercises You Can Do At Home to complement your back training.
ONE ARM DUMBBELL ROW ALTERNATIVES AND SIMILAR EXERCISES
---
---
---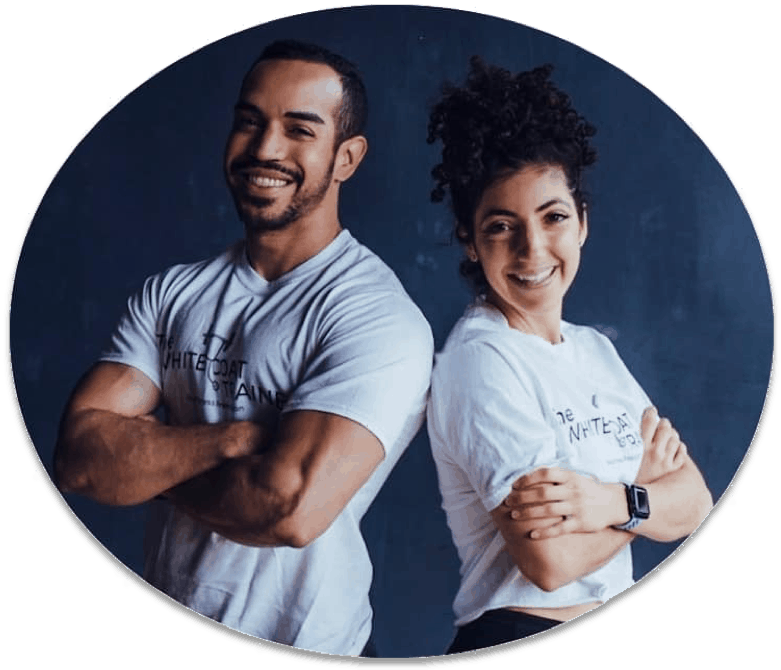 Alex Robles, MD, CPT / Brittany Robles, MD, MPH, CPT
Alex & Brittany Robles are physicians, NASM Certified Personal Trainers, and founders of The White Coat Trainer: a resource dedicated to improving the health and fitness of busy professionals using time-efficient strategies. Their advice has been featured in My Fitness Pal, Prevention, Livestrong, Reader's Digest, Bustle, The Active Times, and more. Learn more about them here.
---