Sadly, the back is one of the most neglected muscle groups in fitness.
Training all the muscles of the back is essential for maintaining shoulder and spinal health.
In this post, you will learn how to do a seated cable row correctly and safely.
Let's get started.
Disclaimer:
Although we are doctors and personal trainers, we are not your doctors. The content on this site is for informational purposes only and should not substitute the advice from your healthcare professional. All kinds of exercise and dietary activities are potentially dangerous, and those who do not seek counsel from the appropriate health care authority assume the liability of any damage or injury which may occur. Please read our full Disclaimer for more information. Also, this post may contain affiliate links: meaning we may receive a commission if you use them.
Okay, let's get started.
---
---
sEATED CABLE ROW FORM VIDEO
WHAT ARE THE BENEFITS OF THE CABLE ROW?
Strengthens the upper back muscles including the rhomboids, the mid trapezius, the posterior shoulders and the latissimus dorsi
Helps re-establish proper shoulder position in individuals with rounded shoulder
Helps realign the thoracic spine in individuals with kyphotic posture
WHAT MUSCLES DOES THE SEATED CABLE ROW WORK?
Rhomboids
Posterior Deltoids aka Rear Delts
Mid-Low Trapezius
Biceps
Forearm Muscles / Grip Strength
HOW TO DO THE SEATED CABLE ROW WITH PROPER TECHNIQUE
Approach a seated row machine and select you desired weight.
Attach a handle to the cable row machine where your grip is at or near shoulder-width (you can also use handles that use a medium or wide grip for a different variation)
Sit down, grab the handles of the attachment and set your feet against the footrest of the machine
Sit up tall with a neutral spine and a neutral neck position
From this position, retract your shoulders

back into your shoulder sockets. Maintain this position throughout the entire set

as this will help maintain constant tension in your back
Inhale and begin pulling the weight towards your upper abdomen by driving your elbows back
As the weight gets closer, focus on retracting your shoulder blades together even more, i.e, squeeze your upper back as much as you can
Do NOT shrug
Do NOT extend your back excessively, (the less your spine moves the better)
Once the weight touches your mid to lower abdomen, pause for a quick 1 count and reverse in a controlled manner
Maintain your torso vertical throughout the entire set
Exhale and begin reversing the movement in a controlled manner
As you return to the starting position DO NOT let your shoulders protract- keep your shoulders back in the shoulder socket!
Repeat for the desired number of reps
WHICH HANDLE IS BEST FOR CABLE ROWS?
In general, there are three handles you can use when doing this exercise.
A narrow V-grip attachment handle where your hands are neutral (palms facing each other)
A medium grip handle where your hands are neutral
A wide grip handle where your hands are pronated (palms facing the floor)
A narrow grip will target the inner back more, including the rhomboids and mid trapezius muscles. The wider the grip, the more you will target the posterior shoulders and latissimus dorsi.
In general, I recommend that you use a narrow + neutral grip whenever possible. A neutral grip places your shoulders in a more natural position and is generally more comfortable for trainees.
COMMON MISTAKES
SHRUGGING
Shrugging during the movement places the emphasis on the upper trap muscles and not on the upper back. The upper traps are already overly activated in most people.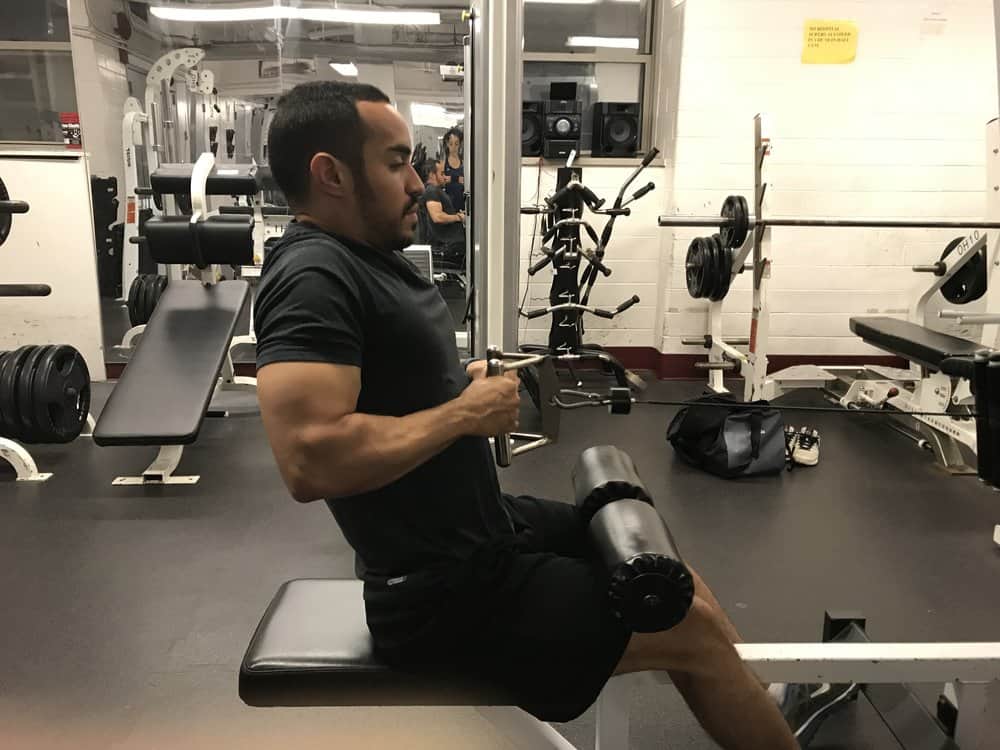 LEANING BACK EXCESSIVELY
People lean way back on rows when the weight is too heavy.  Try to minimize the movement of your spine and maintain an upright position. Excessive leaning can cause low back strain
LETTING YOUR SHOULDERS PROTRACT EXCESSIVELY
Allowing your shoulders to move so freely in the socket throughout this exercise can increase the risk of a shoulder strain.  Keep your shoulders back, as this is the most stable position for them to be in.
NOT USING A FULL RANGE OF MOTION
It is important that you row the handle all the way to make contact with your abdomen without letting your shoulders roll forward.
If you can't make contact, lower the weight!
OTHER FREQUENTLY ASKED QUESTIONS
Are seated cable rows effective?
Seated cable rows are an effective exercise for strengthening all the major muscle groups in the upper back. It is a better option than bent-over rows for people who suffer from lower back pain or tight hamstrings.
How do you do seated cable rows without a cable machine?
The seated row is simply a variation of the horizontal pull exercise. You can substitute any horizontal pulling movement to get many of the same benefits such as dumbbell rows, chest supported rows or barbell rows.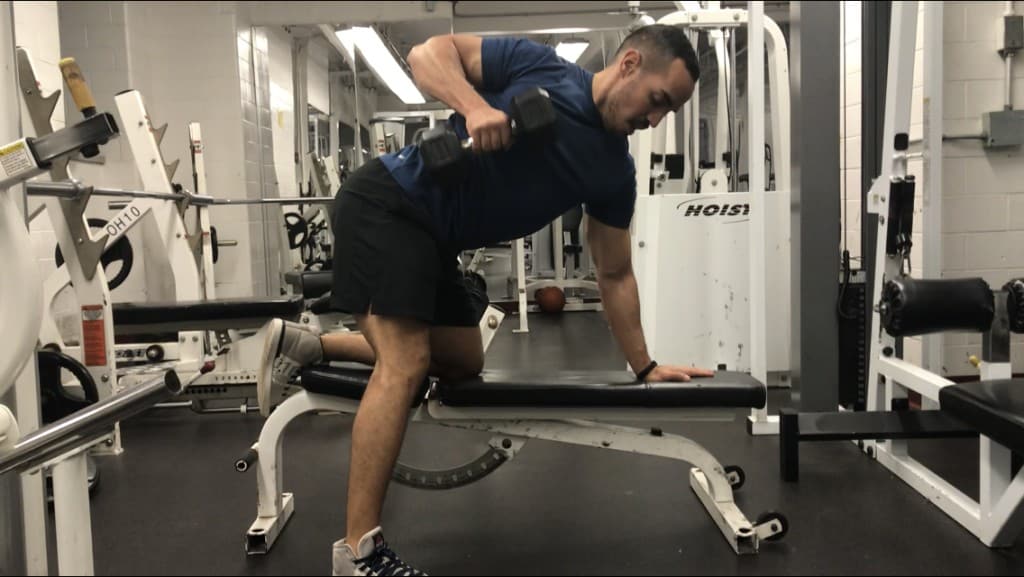 How do you do seated rows at home?
If you do not have access to free weights, there are three exercises you can do at home that are similar to the seated row at home. They include inverted rows (using a very sturdy table), a resistance band row using a long closed-loop resistance band, and the wall pull (if you are a beginner).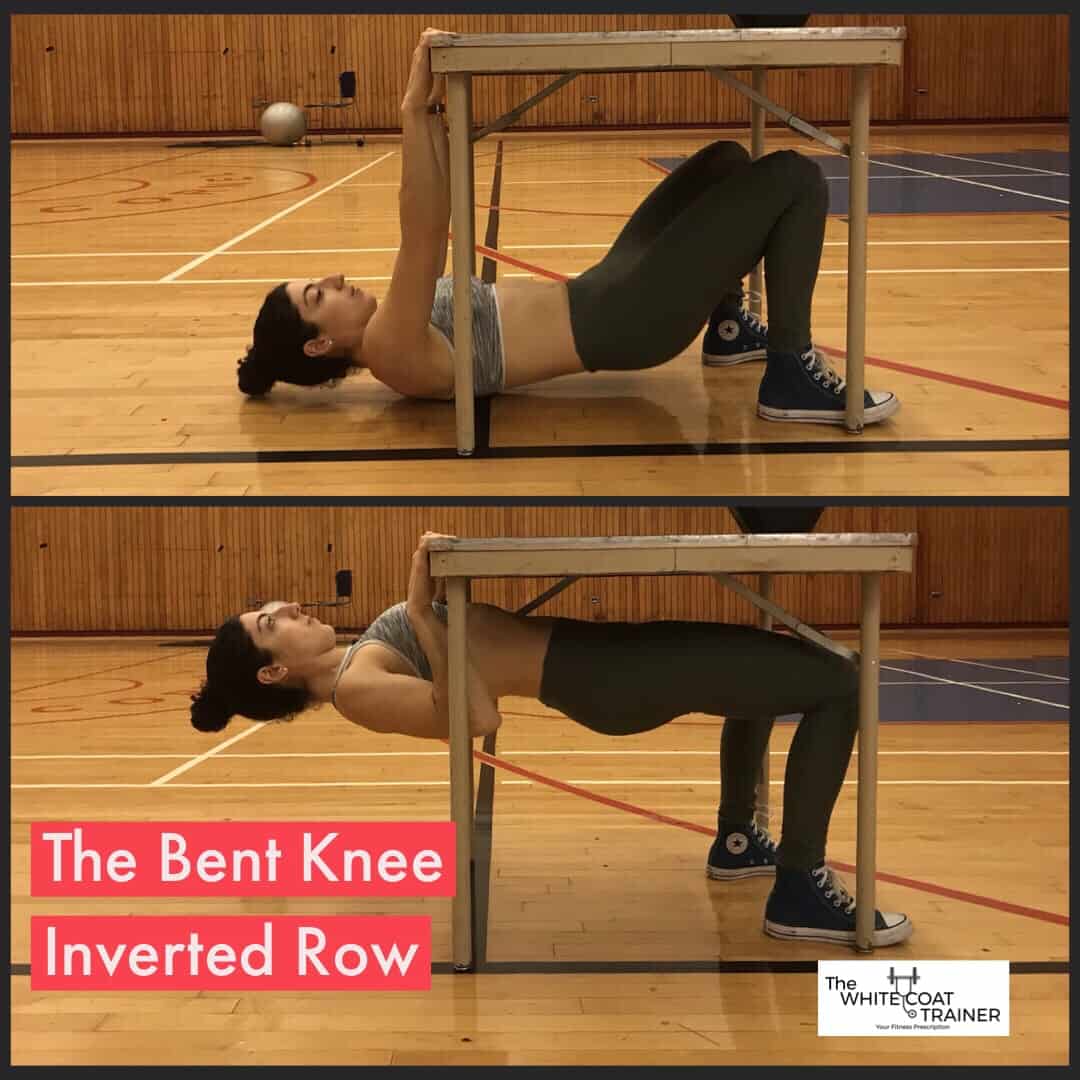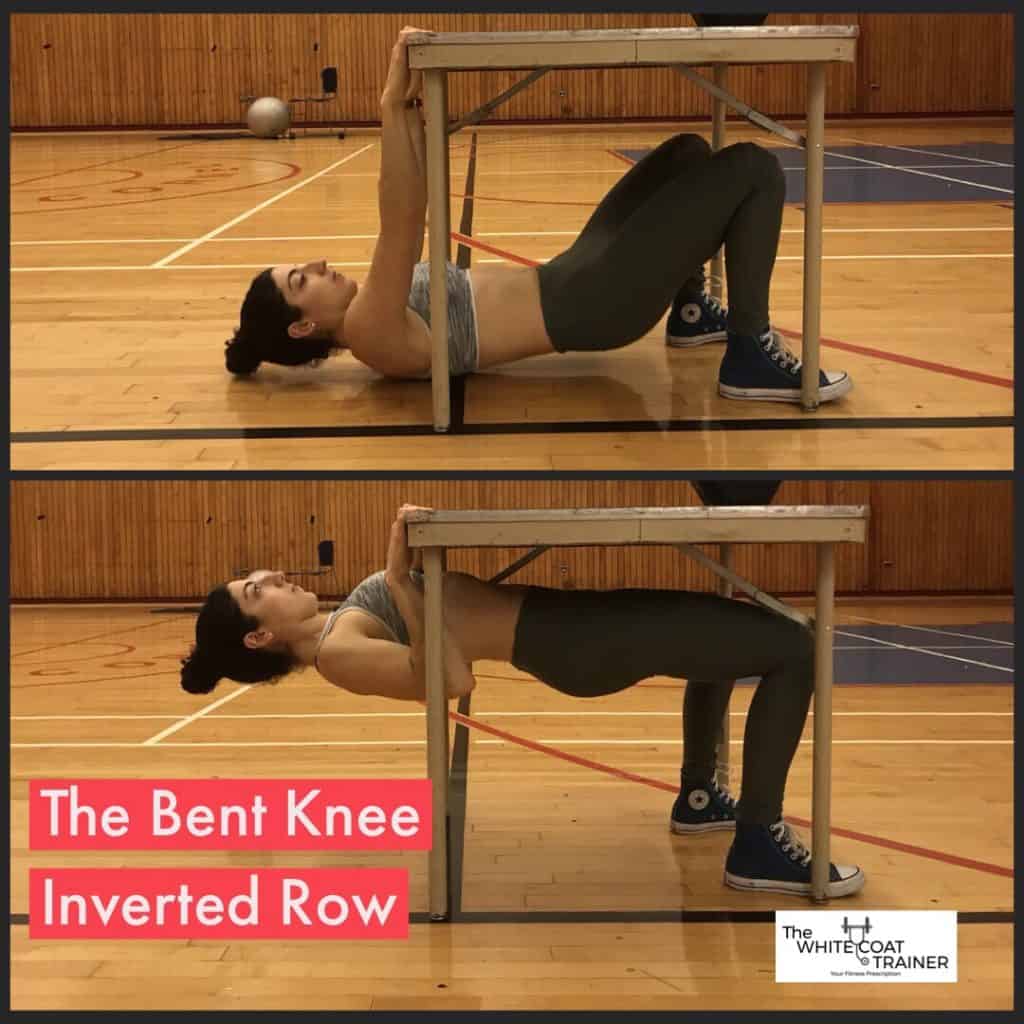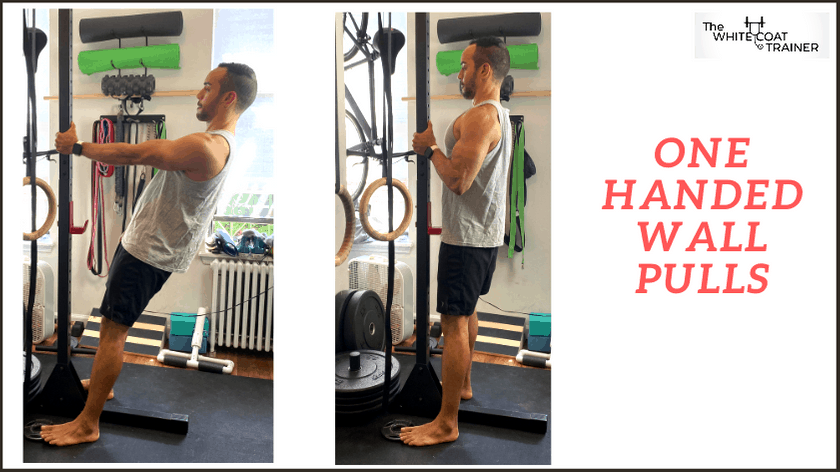 Is close grip or wide grip rows better?
Close grip rows will target the thickness of the middle back while wide grip rows will target the width of your back. I personally prefer close grip rows and wider grip pull-ups.
Are you enjoying the tutorial for this great exercise?
By the way, if you'd like to see a complete list of all the best compound exercises for every body part, check out our E-book.
In it, you will find complete written descriptions on how to do each movement with proper form plus a video tutorial for each exercise!
Is the seated row the same as bent-over row?
Both the seated row and bent-over row will primarily target the upper back musculature, however, the bent-over row will also work your lower back to a degree. In addition, the bent-over row will require good mobility from your hamstrings to execute the movement properly.
Do seated rows work biceps?
Yes, the seated row will inevitably work your biceps as well as your forearms. However, it is important that you feel this movement in your target muscles (the upper back).
Do seated rows work lower back?
Seated cable rows should not work your lower back. If your feel the exercise in your lower back, you are doing this exercise improperly and you are using too much weight.
Use a lighter weight and use good form!
HOW CAN I INTEGRATE THE CABLE ROW INTO MY TRAINING?
Check out The WCT Best Workout Template For Busy Professionals to find a great way to add the cable row and other popular lifts into your workout routine.
SEATED ROW EXERCISE ALTERNATIVES
Below are tutorials of other great back exercises you can use to develop a strong back and respectable upper body strength.
---
---
---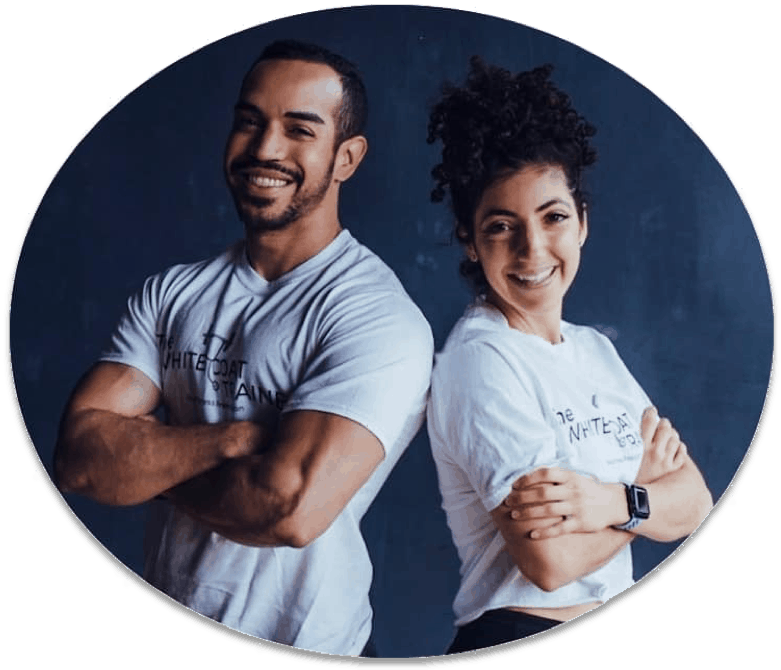 Alex Robles, MD, CPT / Brittany Robles, MD, MPH, CPT
Alex & Brittany Robles are physicians, NASM Certified Personal Trainers, and founders of The White Coat Trainer: a resource dedicated to improving the health and fitness of busy professionals using time-efficient strategies. Their advice has been featured in My Fitness Pal, Prevention, Livestrong, Reader's Digest, Bustle, The Active Times, and more. Learn more about them here.
---