In this post, you will learn how to do bent-over EZ bar rows correctly and safely.
The upper body pull is a movement pattern that is often ignored by many trainees. It is important that you balance out your pushing and pulling exercises with at least a 1:1 ratio.
The EZ bar row is a great compound exercise you can add to your arsenal to iron out any muscular imbalances that you have while strengthening the upper back muscles.
Let's get started.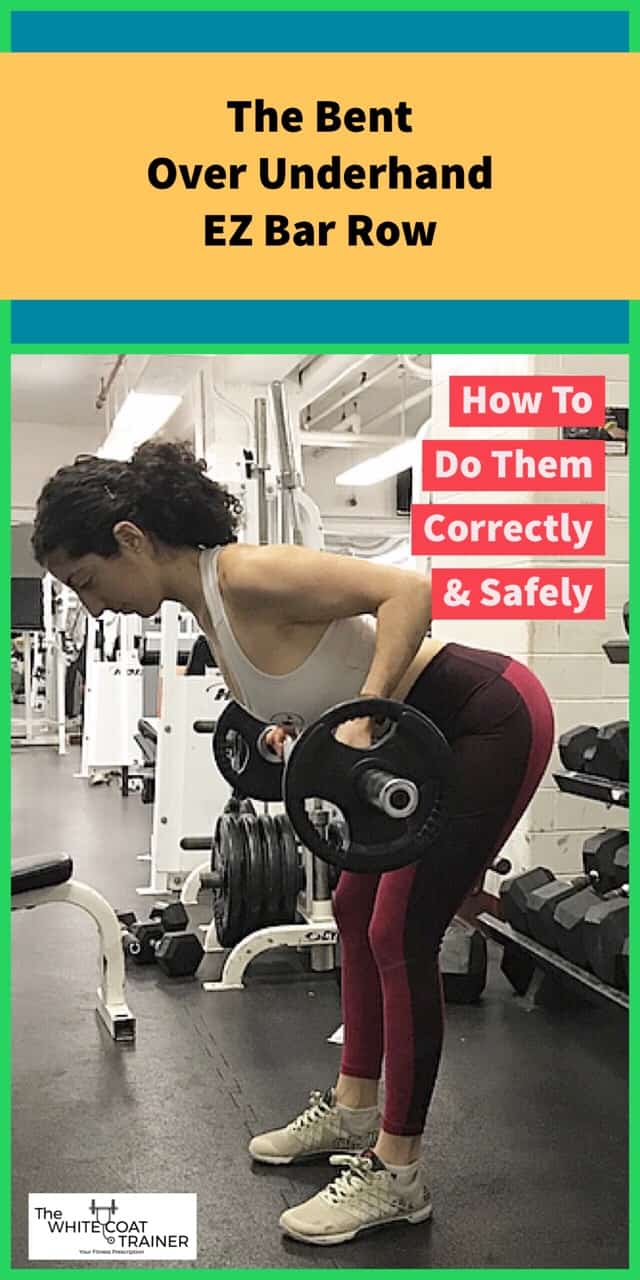 ---
---
EZ BAR ROW FORM VIDEO
BENEFITS OF THE EZ BAR ROW
The bent over row trains and strengthens the low back, traps, rhomboids, biceps and posterior deltoids
The curves on the EZ Bar allow for a more natural position of your wrists and shoulders
Rowing exercises helps re-align the shoulder joint and improves rounded shoulder posture
MUSCLES WORKED DURING THE EZ BAR BENT OVER ROW
The main muscles worked during this exercise are:
Rhomboids
Posterior Deltoids
Mid-Low Trapezius
Latissimus Dorsi
Biceps
Forearm/ Grip Strength Muscles
Erector Spinae (Lower back muscles)
PERFORMING THE EZ BAR ROW WITH GOOD TECHNIQUE
Obtain an EZ Bar (a standard barbell is fine, but the EZ Bar is more comfortable) and load it with the appropriate weight
Set your grip on the bar at approximately shoulder width,

grabbing it where the curve of the bar feels the most comfortable on your wrist
You can use an underhand, or overhand grip
An underhand grip is more comfortable

and it incorporates the biceps more than an overhand grip

You can also set your feet shoulder-width apart as well
Brace your core and begin bending over by flexing at the hips, NOT the spine
Only go as far as you can keep your spine neutral.

This will put your spine anywhere between a 90-120 degree angle from the floor depending on your flexibility
Bend your knees slightly
The starting position should look similar to that of the conventional deadlift

, with a slight stretch on your hamstrings

Once you have reached the starting position, begin the movement by bringing your elbows up

towards the ceiling

Focus on squeezing your scapulae (aka shoulder blades) together

as the Bar approaches your body

The bar should touch somewhere above your navel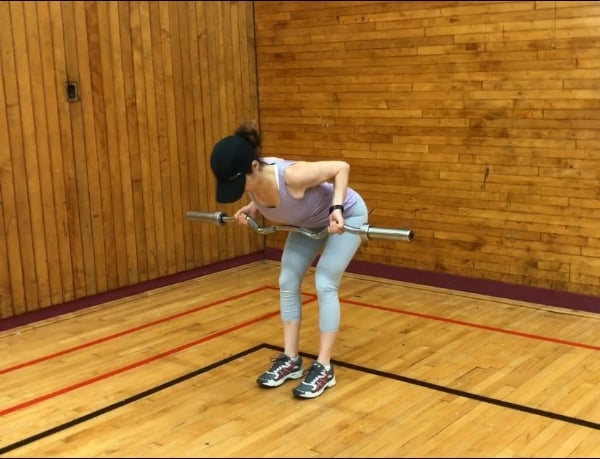 When reversing the movement, do not let your scapula protect all the way

, try and maintain some level of retraction even at the very bottom of the movement

Always control the exercise. Do your best to start each repetition from a dead stop.
Repeat for the desired amount of repetitions
NEVER let your spinal alignment change

. If you cannot keep your spine close to neutral, the weight is too heavy

When finished, you can simply lower the barbell to the floor
COMMON MISTAKES
NOT KEEPING A NEUTRAL SPINE
This exercise can put a lot of stress on your lumbar spine and increase your risk of injury if not done correctly. Make sure to keep your core braced and your spine neutral.
If you suffer from lower back pain, you can try a chest supported variation instead.
Here I am showing the exercise with a set of dumbbells, but you can also do it with a bar.
USING EXCESSIVE MOMENTUM
This happens when the weight is too heavy. Not only can you get injured, but you are also defeating the purpose of the exercise. Lower the weight and make sure that you are training the appropriate muscles.
One of the best ways to avoid falling into this trap is to pause each repetition at the top of the movement (when the bar makes contact with your abdomen).
You will do fewer reps this way, but it is safer in the long run.
FREQUENTLY ASKED QUESTIONS
What is the difference between EZ bar and barbell?
An EZ bar is a specific type of barbell that is squiggly shaped to provide various angled grips for ergonomic benefit. A standard barbell is straight and does not allow you to change the angle of your grip.
Many will say that the EZ allows you to obtain a more n
What is the EZ bar good for?
The various grips on the EZ bar allow you to maintain your wrist in a comfortable position when doing exercises like curls, tricep extensions, or rows.
Some people might experience wrist or shoulder discomfort with a straight bar, and these are the situations where an EZ bar is helpful.
The curves on the EZ bar allow you to place your wrists and thus your shoulders into a more comfortable externally rotated position.
What other exercises can I do with the EZ bar?
The EZ bar was primarily created for isolation arm exercises like the bicep curl. In fact, the bar is often called an EZ curl bar.
With that said, I never recommend that you perform an upright row with this bar, or with any other weights. I go into more details here.
Is a pronated grip better than a supinated or reverse grip?
It doesn't matter a whole lot. A supinated grip will activate your biceps more than a pronated grip, but the focus of this exercise should be on building your back muscles.
Use the grip that is most comfortable for you and places less stress on your wrists, elbows, and shoulders.
What other exercises should I include in my training?
To see a complete list of all the best compound exercises for your entire body, check out our e-book.
Inside, you will find all the best exercises for each body part, complete with a written tutorial on how to do them with proper form and a link to a video.
How much weight should I use on this exercise?
The EZ bar row can be loaded with moderately heavy weights. You can eventually build up to rowing 75% of your bodyweight for 8 repetitions.
HOW CAN I INTEGRATE THE BENT OVER EZ BAR ROW INTO MY WORKOUT PLAN
Check out The WCT Best Workout Template For Busy Professionals to find our simple strength training template that integrates the EZ bar row and other great exercises into your routine.
BENT OVER EZ BAR ROW ALTERNATIVES FOR BUILDING UPPER BACK STRENGTH
---
---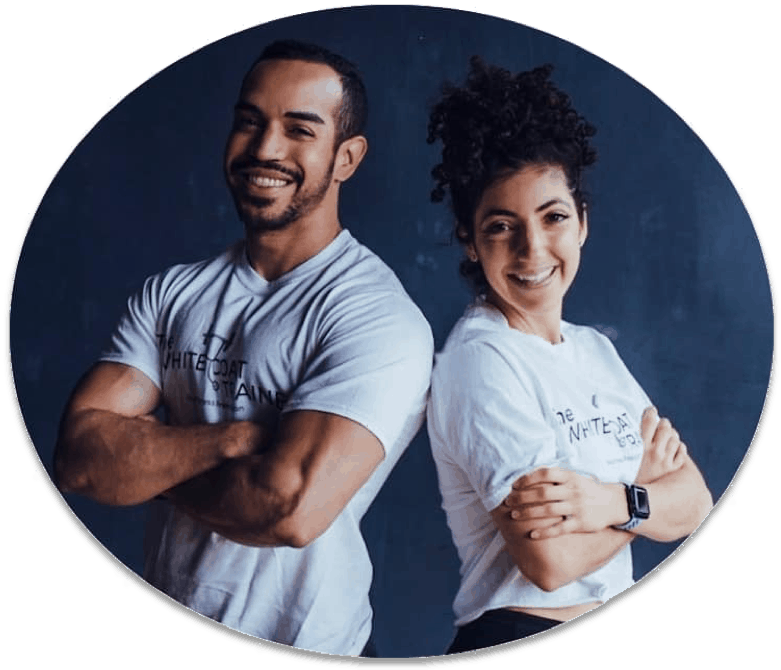 Alex Robles, MD, CPT / Brittany Robles, MD, MPH, CPT
Alex & Brittany Robles are physicians, NASM Certified Personal Trainers, and founders of The White Coat Trainer: a resource dedicated to improving the health and fitness of busy professionals using time-efficient strategies. Their advice has been featured in My Fitness Pal, Prevention, Livestrong, Reader's Digest, Bustle, The Active Times, and more. Learn more about them here.
---