The squat is the king of all exercises. In order to reap the benefits of this movement pattern, it is important to perform different squatting variations.
The Box Squat is one to have in your repertoire.
Popularized by Louie Simmons of Westside Barbell, this common variation allows you to engage your glutes and hamstrings more than traditional squats and it builds explosive strength.
Let's go over how to do it with proper technique.
Disclaimer:
Although we are doctors and personal trainers, we are not your doctors. The content on this site is for informational purposes only and should not substitute the advice from your healthcare professional. All kinds of exercise and dietary activities are potentially dangerous, and those who do not seek counsel from the appropriate health care authority assume the liability of any damage or injury which may occur. Please read our full Disclaimer for more information. Also, this post may contain affiliate links: meaning we may receive a commission if you use them.
Okay, let's get started.
---
---
BOX SQUATTING FORM VIDEO TUTORIAL
WHAT ARE BOX SQUATS GOOD FOR? (KEY BENEFITS OF BOX SQUATS)
Strengthens the powerful leg muscles as well as upper back and core
Emphasizes the posterior chain muscles more than regular squats
Helps to develop explosive strength from a dead stop position
Allows you to change the box height to build strength from different positions
Improves mobility in the hips, ankles, knees and thoracic spine
WHAT MUSCLES DO BOX SQUATS WORK?
Quadriceps

Adductors

Hamstrings
Glutes
Lower Back (Spinal Erectors)
Core

Upper Back
HOW TO DO THE BOX SQUAT WITH PROPER FORM
Approach a barbell that is set in a squat rack at the mid-chest level (above the nipple line)
Place a box (or bench) at the desired height behind you
The box should be at a height where your thighs are parallel to the ground when you sit on it
Set your grip on the bar just outside of shoulder-width with your thumbs wrapped around the bar
Dive underneath the bar and position the bar on the natural shelf created between your trapezius muscles and the top of your scapula
Squeeze your shoulder blades together (without shrugging) and maintain this position throughout the entire lift
Stand up with the weight and take up to three steps back to position your feet just outside of shoulder width (a wide stance will target the posterior muscle group more)
You want to be as close to the box as possible without making contact with it
You can point your toes straight, or angled out 15-30 degrees (the wider your stance, the more you will have to turn your feet out)
Take a deep breath, brace your abdomen and begin the movement by simultaneously bending at the hips and knees
Sit back into your hamstrings as if you are sitting down on a chair behind you, but maintain a neutral spine.
Continue squatting until you are completely sitting on the box
CONTROL THE DESCENT- Do not slam down onto the box as this can lead to significant spinal compression
Your glutes and hamstring should act as a cushion to allow you to sit in a controlled manner
Completely sit on the box for a 1 count but DO NOT RELAX. It is important to keep every muscle tight.
It is OK to have a little bit of forward movement of your knees when sitting on the box, but try to keep your shin angle relatively straight.
To reverse the movement, drive upwards off the box while maintaining a neutral spine. Squeeze your glutes at the top to finish extending your hips.
COMMON MISTAKES
BOUNCING OFF THE BOX
This is dangerous and defeats the purpose of the exercise.
You must completely sit on the box and be motionless for a 1 count.
Do not practice this movement with heavy weight! Lower the weight and practice on technique and control.
ALLOWING YOUR KNEES TO CAVE INWARD ON THE ASCENT
Allowing your knees to cave inward can cause excessive wear of your hips and knees.
Keep your knees in line with your toes and do not allow them to translate inwards.
Decrease the weight and practice technique.

FREQUENTLY ASKED QUESTIONS
WHAT IS THE PURPOSE OF A BOX SQUAT?
A box squat simply serves as another squat variation you can use to train the knee flexion movement pattern.
The main difference it has over regular squats is that it emphasizes the posterior chain muscles and builds more explosive strength.
Is it absolutely necessary to do it? No.
But it does provide a different stimulus and provides variety to your training.
DO BOX SQUATS IMPROVE SQUATS?
Yes, there is a carryover between the box squat and the traditional back squat.
With that said, they are two distinct movement patterns. If you only train the box squat, you might need a few weeks to get comfortable performing a back squat as the movement uses different mechanics.
ARE BOX SQUATS HARDER THAN SQUATS?
In general, box squats are more difficult than regular squats as you have to come to a complete pause at the bottom of the movement.
When doing regular squats, you can use a "bounce" aka the stretch reflex to help you get out of the bottom.
Since you are eliminating momentum with the box squat, plan to use less weight.
Here is a direct comparison.
BOX SQUATS VS REGULAR SQUATS
Box Squat:
Allows you to train strength from a dead stop motion (builds explosive power)
Allows you to control the depth of the squat and your range of motion (you always know how low you are going)
Allows you to overload your glutes and hamstrings more than the quadriceps (through the use of less knee flexion)
Regular Back Squat:
Allows you to lift more weight as you can use the stretch reflex (bounce) at the bottom
Utilizes the quadriceps more than glutes and hamstrings (greater knee flexion)
More difficult to assess your squat depth
DO BOX SQUATS BUILD GLUTES?
The box squat is a great exercise for building the glutes and the entire posterior chain.
These include the lower back muscles as well as the hip extensors.
To ensure that you overload the posterior muscle groups, try and maintain a vertical shin at the bottom of the exercise.
WHAT BOX SQUAT HEIGHT SHOULD I USE?
Choose a box where your things are parallel to the ground when sitting down.
You can train on a higher box if you are struggling with maintaining tightness and technique, and with a lower box if you want a greater challenge.
You can also mix and match the height of the box in different training blocks.
For most people, parallel will be sufficient.
CAN I DO BOX SQUATS WITH DUMBBELLS?
Yes, box squats can be done with dumbbells. You can choose to hold the dumbbells in your outstretched hands, up by your shoulders, or a single dumbbell at your chest like a goblet squat.
HOW TO DO BOX SQUATS AT HOME
You can also take advantage of this exercise at home. All you need is a chair.
Here is a picture of Brittany doing a single-leg box squat while holding a dumbbell in the goblet position.
HOW CAN I INTEGRATE THE BOX SQUAT INTO MY TRAINING?
Check out The WCT Best Workout Template For Busy Professionals to find a simple way to add this great exercise (and other amazing compound exercises) into your routine.
BOX SQUAT ALTERNATIVES
Here are my other tutorials on other great lower body exercises that train similar muscle groups.
---
---
---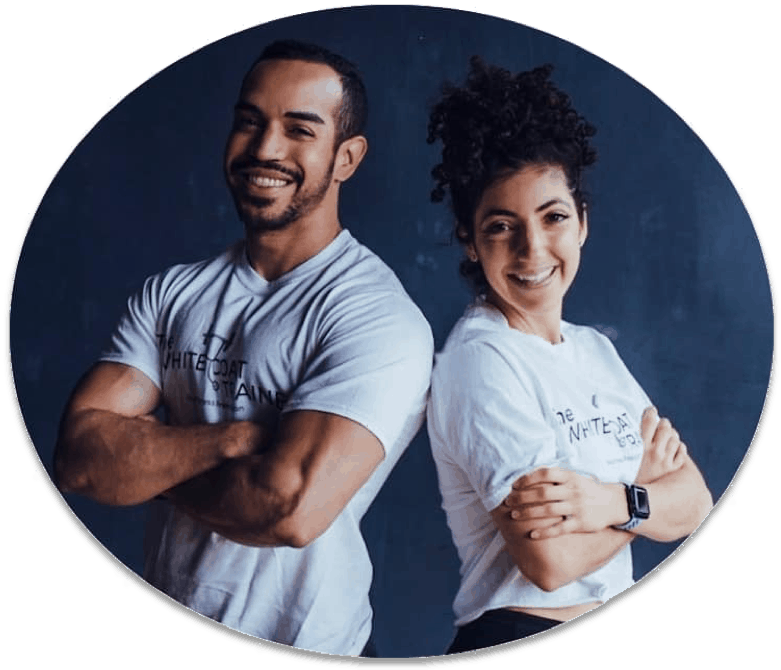 Alex Robles, MD, CPT / Brittany Robles, MD, MPH, CPT
Alex & Brittany Robles are physicians, NASM Certified Personal Trainers, and founders of The White Coat Trainer: a resource dedicated to improving the health and fitness of busy professionals using time-efficient strategies. Their advice has been featured in My Fitness Pal, Prevention, Livestrong, Reader's Digest, Bustle, The Active Times, and more. Learn more about them here.
---