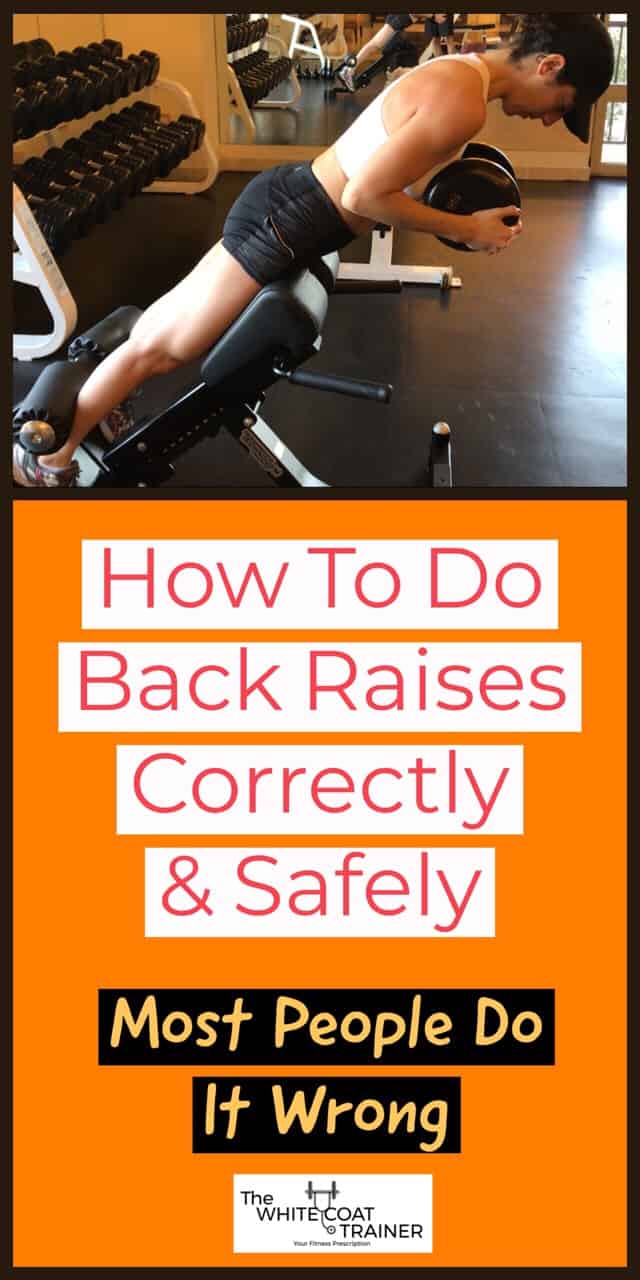 INTRODUCTION: USING THE BACK RAISE FOR GLUTE AND HAMSTRING DEVELOPMENT
Developing a strong posterior chain is a vital component to having a strong healthy body. Far too often, trainees over emphasize training their 'mirror muscles' such as the chest, the abs, and the quads. This can lead to muscle imbalances, pain, and injury.
Fortunately, there are many compound exercises that can train all of the posterior chain muscles (glutes, hamstrings and low back) at once. The back raise is one of them.
BACK RAISE VS BACK EXTENSIONS VS GLUTE HAM RAISE
Most people think back raises and back extensions are the same exercise. They are different.
Back Raises are performed on a 45 degree back raise machine. They train the muscles of the posterior chain which includes the low back and the posterior legs.
Back Extensions are an exercise that is performed on a preacher curl machine and it is meant to train the upper back or improve thoracic extension. Smitty Diesel made a good article on this.
Glute ham raises require a GHD machine. They train your posterior chain through flexion of the hamstring muscles. This exercise does not train the low back muscles as much.
Please do not call any of these exercises hyperextensions. We do not want to nor should we ever hyperextend anything on our bodies.
BACK RAISES FORM
BACK RAISE BENEFITS
Activates the glute muscles which are often dormant in the general population

Strengthens the muscles of the low back and the posterior chain, which are often underutilized when compared to the quadriceps muscles

Improves hip extension, and isometric back strength, which is necessary for low back health
MUSCLES WORKED IN THE BACK RAISE
Glutes

Hamstrings

Adductors

Spinal Erectors

Other Low Back Muscles
BACK RAISE ALTERNATIVES
Not everyone has access to a back raise machine. Fortunately, there are other exercises that resemble this movement and all you need is a barbell
PERFORMING THE BACK RAISE WITH PROPER TECHNIQUE
Approach a back raise machine that is set to 45 degrees

Ensure that the padding for the legs is at a height where you can bend from your spine without difficulty
Position yourself on the machine and lock your ankles behind the ankle padding

Stand up tall and brace your core and keep your spine neutral

You can choose to keep your arms across your chest, or you can perform it with a light dumbbell
From this position, begin bending at the hips while keeping your legs relatively straight

You will begin to feel a stretch in your hamstrings

Keep going until you reach your end range of motion. You'll most likely be able to bend to at least 90 degrees of hip flexion

Ensure that you maintain a neutral spine throughout the range of motion
Reverse the movement by raising your back, back to its starting position without changing your spinal alignment

Once you're almost upright, flex your glutes hard

Stop the motion once you are are back to neutral

DO NOT HYPEREXTEND your back beyond the neutral position
This exercise can easily be scaled with added weight. Simply hold a dumbbell across your chest.
COMMON BACK RAISE MISTAKES
HYPER-EXTENDING AT THE BACK
This is dangerous and can cause significant injury to your low back, especially if you are adding external resistance. Flex your glutes at the top and stop when you are upright
FREQUENTLY ASKED QUESTIONS
Are Back Raises Bad For You?
No, back raises are not bad for you. It is a totally natural movement pattern that trains the muscles of the posterior chain. If you perform back hyper-extensions, then you are putting yourself at risk of developing spinal injury.
My Back Hurts When I Do Back Raises. What Should I Do?
This is likely due to a technical issue. Ensure that you are NOT hyper-extending at the back and stop the exercise once you reach a neutral position.
If your back continues to hurt, then try one of the back raise alternatives listed below.
Can I Do Back Raises Without The Machine?
Unfortunately, it is difficult to recreate this exercise without the machine. However, we do have many close alternatives to this exercise that train the same muscles in a similar fashion. These include the Romanian deadlift and goodmorning which you can check below.
How Can I Integrate Back Raises Into My Routine?
Check out The Best Workout Template, where we provide a simple exercise routine that teaches you how to use the back raise and a bunch of other exercises effectively.
BACK RAISE ALTERNATIVES