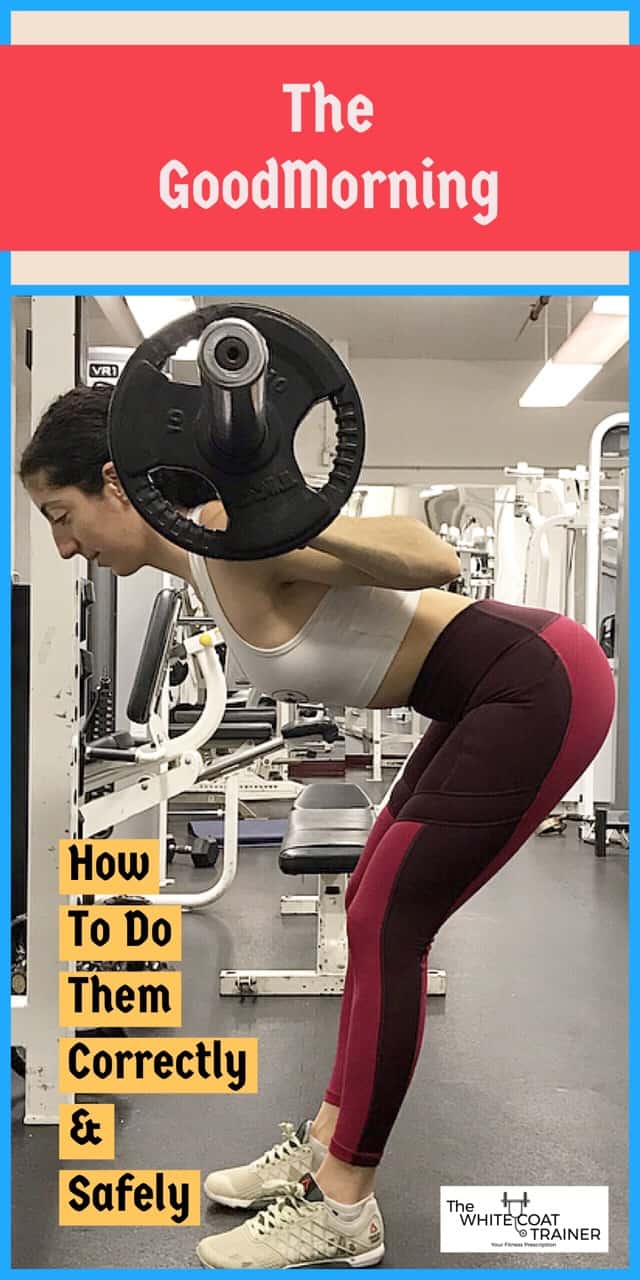 INTRODUCTION TO THE GOOD MORNING EXERCISE
Your glutes and hamstrings can never be too strong. In fact, most people have a very weak posterior chain and could benefit from direct glute/hamstring work. There are very few exercises that are as effective as the Goodmorning in training this critical muscles. Use good judgement and perform this exercises slowly, safely, and with good technique.
GOOD MORNING EXERCISE FORM VIDEO
BENEFITS OF THE GOOD MORNING EXERCISE
Strengthens the low back, abdominals, glutes, and hamstrings simultaneously

Increases hamstring length through a stretch reflex

Helps eliminate muscular imbalances that exist between the quads and the hamstrings
MUSCLES WORKED DURING THE GOOD MORNING
Hamstrings

Glutes

Low Back

Spinal Erectors

Core
PERFORMING THE GOOD MORNING EXERCISE WITH GOOD TECHNIQUE
Approach a barbell that is set up in a power rack at the mid-chest (above the nipple) level

Set your grip on the bar just outside of shoulder width with your thumbs wrapped around the bar

Dive underneath the bar and position it on the natural shelf created between your trap muscles and posterior shoulders

Unrack the weight and take up to three steps back from the rack

Set your feet just at shoulder width with your feet pointing forward
Take a big breath and begin the movement by pushing your butt back as far as you can

Focus on trying to touch the wall behind you with your butt

Maintain a very slight bend at the knee

Keep pushing your hips back until you feel a long stretch along the hamstrings muscles
Initially, your range of motion may be limited due to tight hamstrings

Only go as far as you can tolerate the stretch

Reverse the movement by pushing your hips forward back to the starting position

You should NEVER bend at the spine

Repeat for the desired amount of repetitions
COMMON GOOD MORNING EXERCISE MISTAKES
NOT PUSHING THE HIPS BACK
This is a common fault that can be fixed by practicing the movement with no weight. You should focus on feeling a strong hamstring stretch on each repetition
BENDING AT THE SPINE
This exercise (like any) could be potentially dangerous. Always exercise caution and use good technique. Your spinal alignment should never change. Keep your core braced and flex at your hips. Keep the weight light until you have mastered the technique.
BENDING THE KNEES TOO MUCH
If you overly bend at the knee, your quadriceps will get involved. This exercise is meant to train the posterior chain, not the quads.
INTEGRATING THE GOOD MORNING EXERCISE INTO YOUR WORKOUT
Want to know how to use this exercise in your workout? Check out The Best Workout Template For Busy Individuals to learn how to integrate it into your training!
GOOD MORNING ALTERNATIVES
Here is a list of other lower body hip hinge exercises.
Want to see other great leg exercises like this one? Learn The Best Leg Exercises to Develop a Strong Lower Body.