INTRODUCTION
The kettlebell swing is a great dynamic exercise that incorporates the benefits of an explosive hip drive. This exercise trains a large range of motion, which trains many different muscle groups simultaneously. In addition, this exercise mimics the Olympic weight lifts (namely the Clean) which improves speed and power production.
---
---
KETTLE-BELL SWING FORM VIDEO
MUSCLES WORKED DURING THE KETTLE-BELL SWING
Hamstrings
Glutes
Core
Shoulders
Low Back
Quadriceps
BENEFITS OF THE KETTLE-BELL SWING
Strengthens the low back, glutes, hamstrings, and quadriceps muscles while incorporating core stability
Trains a large range of motion with minimal equipment and without requiring heavy weight
Trains explosive hip extension which creates power and improves overall athleticism
PERFORMING THE KETTLE-BELL SWING
Obtain a kettle-bell and position it in front of you between your legs. They come in different sizes

so make sure you pick one that is suitable to your level of strength).

Get into a stance that is slightly wider than shoulder width with your feet pointed forward
Bend at the hips and knees and pick up the kettlebell with outstretched arms while maintaining a neutral spine.
At this point, you will be in the starting position. Take a breath and brace your core
To begin the movement, shift your hips back with a slight knee bend while gently swinging the kettlebell back behind you.
Keep your arms straight and in between your legs, and do not allow your spine to bend
We will call this the ready position
From this position forcefully extend at the hips so that the kettlebell is propelled up and forward
Squeeze your glutes and continue utilizing the momentum of the kettlebell to bring it all the way overhead with your elbows still locked
Control the downward swing back to the ready position to perform the next repetition
Perform the movement in a controlled manner- do not let the weight control you.
Ensure that you do not bend at the spine throughout the entire movement
COMMON KETTLE-BELL SWING MISTAKES
– PERFORMING THE MOVEMENT WITH POOR CONTROL
Start light and make sure the movement pattern is controlled and deliberate.
– BENDING AT THE SPINE
No movement should come from any individual vertebrae. Bend at the hips and knees and focus on maintaining a neutral spine throughout the entire exercis

e
HOW CAN I INTEGRATE KETTLE BELL SWING INTO MY TRAINING?
Check out The WCT Best Workout Template For Busy Professionals to find a simple way to add the kettle-bell swing and other great exercises into your routine.
KETTLE BELL SWING ALTERNATIVES
---
---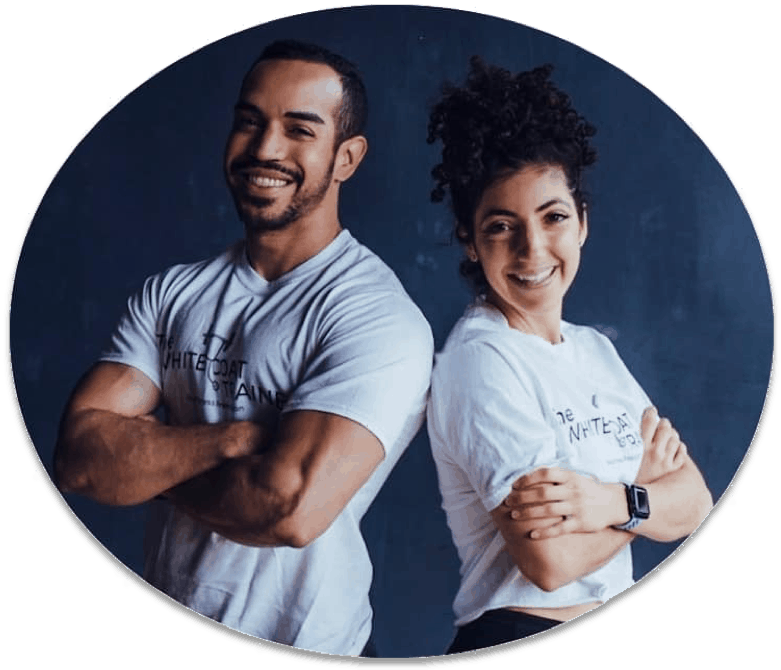 Alex Robles, MD, CPT / Brittany Robles, MD, MPH, CPT
Alex & Brittany Robles are physicians, NASM Certified Personal Trainers, and founders of The White Coat Trainer: a resource dedicated to improving the health and fitness of busy professionals using time-efficient strategies. Their advice has been featured in My Fitness Pal, Prevention, Livestrong, Reader's Digest, Bustle, The Active Times, and more. Learn more about them here.
---