SUMO DEADLIFT VS CONVENTIONAL
The Sumo Deadlift is one of the best exercises you can do to develop strong hips.
To perform this exercise, you must assume a much wider stance than the Conventional Deadlift, which will decrease the distance the bar has to travel, and keep you in a much more upright posture.
As a result, less strain is placed on your low back, and more emphasis is placed on the hips, hamstrings and quadriceps muscles.
Some individuals find that they are anatomically better suited for the sumo position, while others find it awkward. Either way, both Sumo and Conventional Deadlifts train a key functional movement pattern, which is hip extension.
SUMO DEADLIFT FORM VIDEO
BENEFITS OF THE SUMO DEADLIFT
Ingrains appropriate technique for picking up a heavy item off the floor
Places less stress on the low back, allowing you to train the deadlift in the presence of minor low back strain
Decreases the range of motion the barbell has to move, making it a very efficient movement pattern
Strengthens your grip strength, forearms, lat muscles, spinal erectors, glutes, hamstrings, quadriceps, and core muscles
SUMO DEADLIFT MUSCLES WORKED
Hamstrings
Adductors
Glutes
Quadriceps
Spinal Erectors
Lats
Abs/Core
Forearms/Grip
PERFORMING THE SUMO DEADLIFT WITH PROPER TECHNIQUE
Walk up to a barbell that is set on the floor with the desired weight, the bar should be at a height that is near the mid-shin level
Assume a stance that is significantly wider than shoulder width, with your feet pointed out approximately 45 degrees, and your shins almost touching the bar
Bend down and grab the bar with a shoulder width grip (aka your arms should be completely straight)
(If you are performing the exercise with the empty barbell, simply position the bar at the mid-shin level to begin the movement)
When looking from the front, your shins should be as vertical as possible, and your knees should be pointing in the same direction as your toes
Maintain your knees pointing out throughout the entire movement
Get into the starting position by straightening your back, lifting your chest and keeping your shins in contact with the bar
Lock your lats into place by squeezing your armpits shut (as if you are trying to prevent someone from tickling your underarms
Your starting back position will be more upright than a conventional deadlift
Maintain a flat neutral spine throughout the entire movement, do not hyperextend nor allow any rounding of your back.
When looking from the side, we should be able to draw an imaginary straight line from your mid-shoulder down to the bar with your back flat and your shins vertically aligned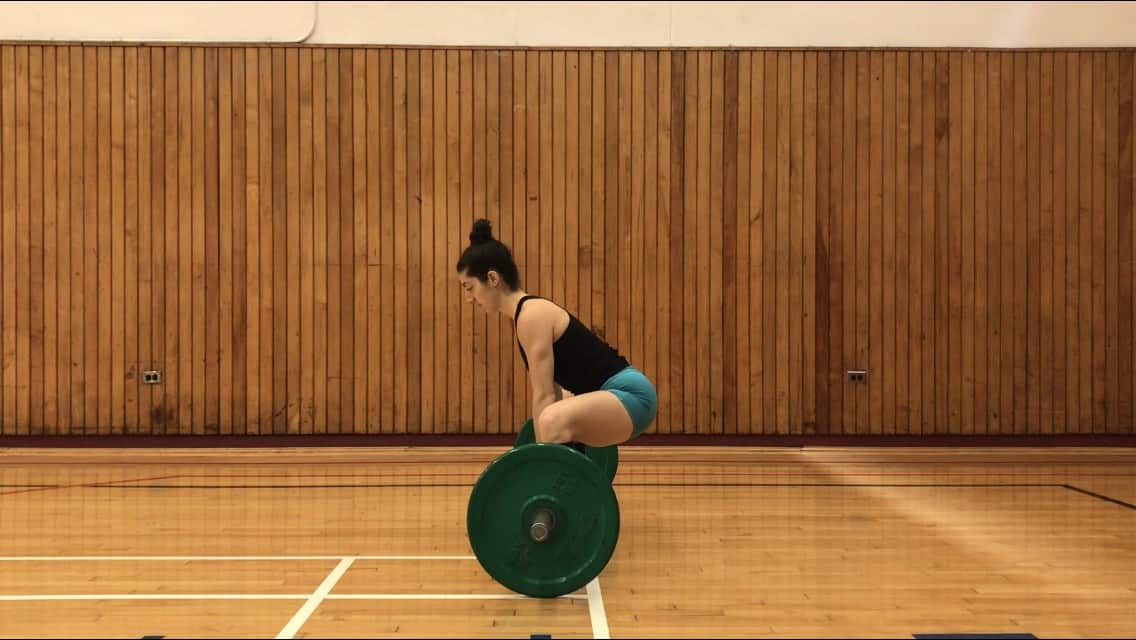 If you are in the correct position you should feel a stretch along your adductor muscles, as well as tension across your back and hamstring muscles
Take a breath, and hold it in. Begin the pull by extending your knees and hips until you are standing upright. Keep the bar in close contact to your legs throughout the lift
Squeeze your glutes once the bar passes your knees to finish the lift
Reverse the movement the exact same way you came up, by breaking at the hips first and then the knees
COMMON SUMO DEADLIFT MISTAKES
Setting A Stance That Is Too Wide
When setting your stance for the sumo deadlift, you should only go as wide as your anatomy and hip flexibility allow you to go. You are too wide if your shins are no longer in a straight vertical orientation when looking from the front.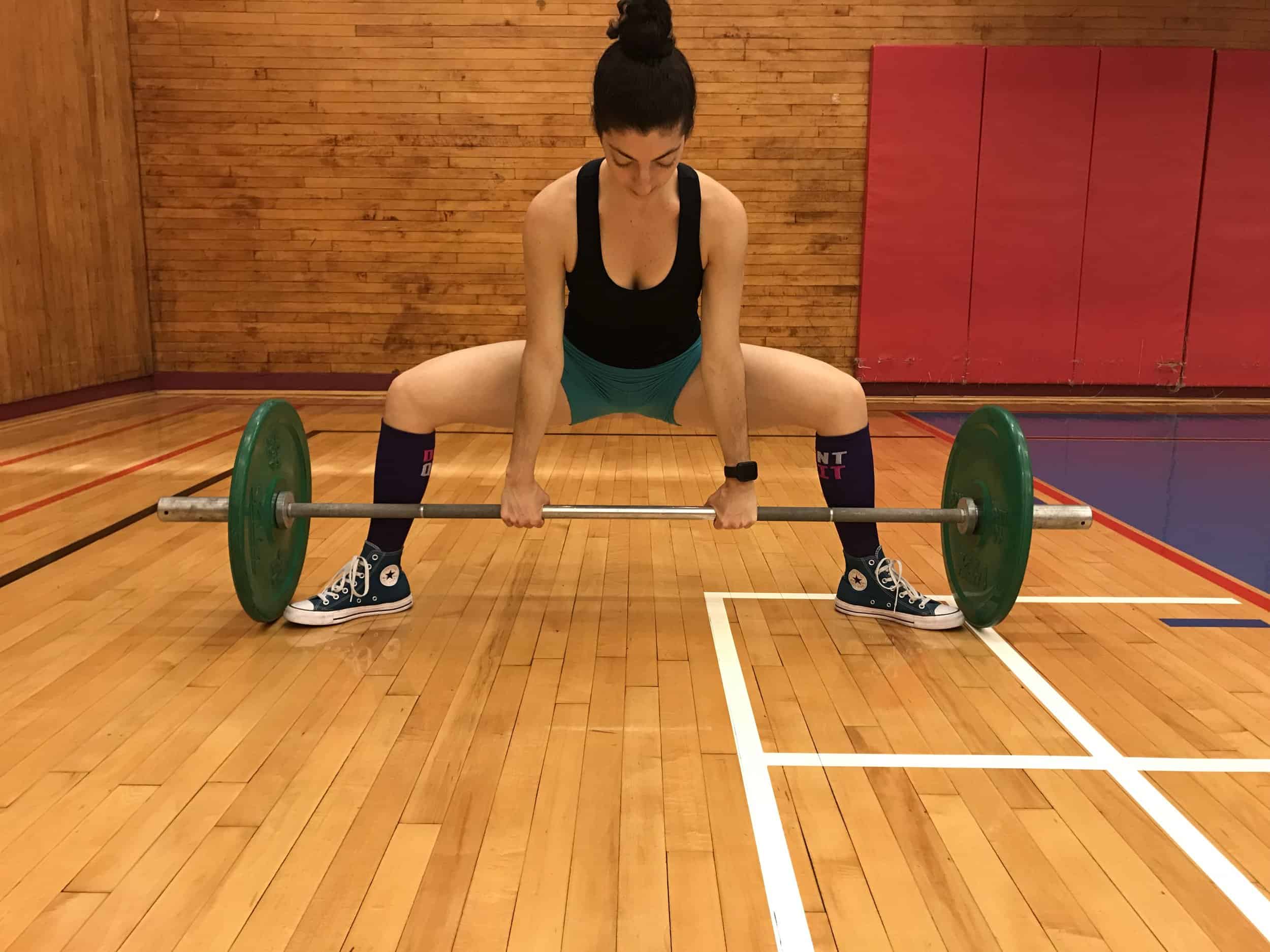 Hyperextending The Back At the Lockout
This is how you injure your low back. Finish the movement by extending at the hips, not at the spine. In order to ensure that you do not hyperextend, simply squeeze your glutes hard at the top of the movement. Do not change your back angle once your glutes have locked out.
Allowing Rounding (Flexion) of The Spine
Similarly, allowing your spine to flex or round during this exercise increases your risk of disk herniation. If your back is rounding, decrease the weight and concentrate on keeping your spine neutral. Record your sets and do not allow any rounding.
FREQUENTLY ASKED QUESTIONS
Is Sumo Deadlift Easier Than Conventional Deadlift?
This is a very common misconception in the fitness world. Unfortunately, the sumo deadlift is a misunderstood exercise. Although the range of motion is decreased compared to a conventional, sumo deadlifts challenge your muscles in a different way.
Some individuals are better suited to pull conventional, and some are better suited to pull sumo. If both feel equally natural, utilize them both in your training.
In addition, the heaviest deadlifts on the planet are performed with a conventional stance
Why Sumo Deadlift?
I personally use the sumo deadlift. It feels much more natural to me, and I suffered a low back injury a few years back. The sumo deadlift has allowed me to still train hip extension with a barbell even in the presence of my low back strain.
Go with what feels natural.
Sumo Deadlift VS Trap Bar Deadlift?
The sumo deadlift and the trap bar deadlift are totally different exercises. The trap bar resembles a conventional deadlift more than the sumo. The starting position in a trap bar requires you to set a shoulder width stance and maintain a less vertical starting position.
Either way, the trap bar is another suitable variation that you can use in your training.
Can I Do The Sumo Deadlift With A KettleBell? What About A Dumbbell?
Yes, the sumo deadlift can be done with a kettlebell and with dumbbells. This should only be reserved to individuals with very little training experience and simply want to perform the exercise in a low impact manner.
Using a barbell will stimulate more muscles and allow you to lift heavier weights.
What Is A Good Sumo Deadlift Routine?
As with all exercises, it is best to train hip extension exercises at least two times a week. You can choose to do
Two sumo deadlift sessions a week (one moderately heavy session (4×6, 3×5 etc), and one lighter session for higher reps (3×10)
One sumo deadlift day and another day where you focus on a different hip extension exercise such as Romanian Deadlifts.
If you would like to see how to implement this exercise into a workout routine, check out The Best Workout Template For Busy Individuals
What Are The Best Sumo Deadlift Shoes?
Converse Chuck Taylor's or Mark Bell's Reebok Crossfit Lite. These shoes have a flat sole and will not roll over when you are exerting pressure outwards on your feet.
I Experience Hip Pain While Doing The Sumo Deadlift
If you try and go too wide too early, you can strain your hip flexor and adductor muscles. The first thing that you need to do when you experience pain is to stop performing the exercise/activity that is causing pain (temporarily).
Stretch your hips and your adductors (using stretches found at 9 Incredible Stretches to Improve Flexibility Fast), and then slowly re-instate the exercise back into your routine using a slighlty narrower stance.
HOW CAN I INTEGRATE THE SUMO DEADLIFT INTO MY TRAINING?
Check out The WCT Best Workout Template For Busy Professionals to find a simple way to add the sumo deadlift and other great exercises into your routine.
SUMO DEADLIFT ALTERNATIVES/ SIMILAR EXERCISES
Check out a full list of our other exercises here