THE SINGLE ARM DUMBBELL PUSH PRESS
Shoulder health has become a hot topic in the health and fitness industry due to the rising number of shoulder injuries seen in young adults. Improper and unstable movements of the shoulder joint are a major contributor to these injuries.
Overhead pressing exercises create strong healthy shoulders and help encourage a full range of motion.
Disclaimer:
Although we are doctors and personal trainers, we are not your doctors. The content on this site is for informational purposes only and should not substitute the advice from your healthcare professional. All kinds of exercise and dietary activities are potentially dangerous, and those who do not seek counsel from the appropriate health care authority assume the liability of any damage or injury which may occur. Please read our full Disclaimer for more information. Also, this post may contain affiliate links: meaning we may receive a commission if you use them.
Okay, let's get started.
---
---
THE DUMBBELL PUSH PRESS FORM VIDEO
BENEFITS OF THE DUMBBELL PUSH PRESS
Allows you to train each shoulder individually to smooth out any existing muscular imbalances
The use of uneven loading strengthens the core musculature, causing you to actively stabilize the weight overhead
The push press allows you to use hip drive, which Incorporates more muscles into the movement
MUSCLES WORKED DURING THE DUMBBELL PUSH PRESS
Anterior and medial deltoids
Triceps
Core
Glutes
HOW TO PERFORM THE DUMBBELL PUSH PRESS WITH GOOD TECHNIQUE
Pick up a dumbbell with the arm you wish to train first
Using the momentum from a well-controlled jump, clean the dumbbell up to your anterior shoulder
Rest one side of the dumbbell on top of your shoulder and keep your elbow up and in front of the weight
From this position, set your stance to roughly shoulder width with your feet pointed forward or out no more than 15-30 degrees.
You can also reach your nonworking arm straight out in front of you to help with stability
From this position, take a deep breath and brace your core
Begin the dip by bending slightly at the knees while maintaining a neutral spine – it's the same position you would be in if you were preparing to jump straight up
From this point extend your hips and knees forcefully and come up on your toes to generate force in an upward direction
Begin pressing the dumbbell straight overhead until your elbow is locked out
At the overhead position, engage your core muscles and glute muscles to maintain stability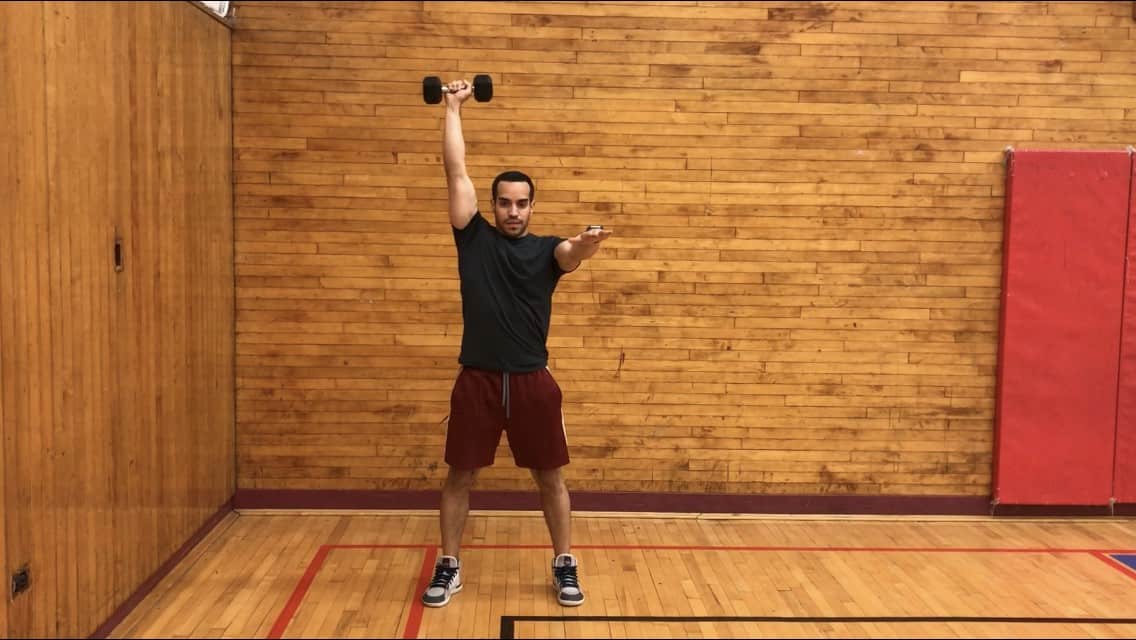 Control the weight back down to your anterior shoulder for the next repetition
COMMON MISTAKES
PRESSING THE DUMBBELL OUT IN FRONT OF YOUR BODY
Keep the weight in line with your body. From the side view, we should be able to draw a straight line down from the weight to your ankle
NOT CONTROLLING THE DIP PORTION OF THE PUSH PRESS
Keep the dip brief and controlled- only bend your knees enough to extend forcefully
CHALLENGE
Perform 1/3rd of your body weight in each hand for 5 Repetitions
HOW CAN I INTEGRATE THE DUMBBELL PUSH PRESS INTO MY TRAINING?
Check out The WCT Best Workout Template For Busy Professionals to find a simple way to add the dumbbell push press and other great exercises into your routine.
DUMBBELL PUSH PRESS/SINGLE ARM ALTERNATIVES
---
---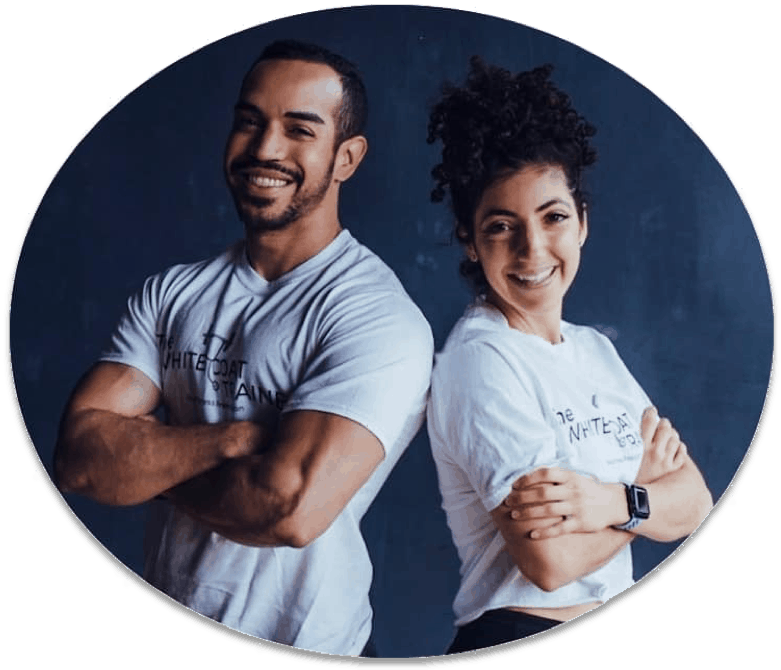 Alex Robles, MD, CPT / Brittany Robles, MD, MPH, CPT
Alex & Brittany Robles are physicians, NASM Certified Personal Trainers, and founders of The White Coat Trainer: a resource dedicated to improving the health and fitness of busy professionals using time-efficient strategies. Their advice has been featured in My Fitness Pal, Prevention, Livestrong, Reader's Digest, Bustle, The Active Times, and more. Learn more about them here.
---