INTRODUCTION
The Standing Dumbbell Overhead Press is a very close variation to the Overhead Press which allows for a more natural range of motion of the shoulders.  
Given that the weight is not fixed by a barbell, your shoulders are free to rotate throughout the movement.  You will not be able to lift as much weight with this exercise compared to the Overhead Press.
---
---
STANDING DUMBBELL OVERHEAD PRESS FORM VIDEO
BENEFITS OF THE STANDING DUMBBELL OVERHEAD PRESS
Teaches stable shoulder position when reaching overhead
Improves mobility in the shoulder joint by allowing the shoulders to rotate freely without the restriction of a barbell
Encourages strength development of all three heads of the shoulder muscles, triceps, while teaching core stability  
MUSCLES WORKED DURING THE STANDING DUMBBELL OVERHEAD PRESS
Anterior and Medial Deltoid
Triceps
Core
Glutes  
PERFORMING THE STANDING DUMBBELL OVERHEAD PRESS
Grab two dumbbells and hold them in your outstretched arms alongside your body
From this position, you will 'clean' the dumbbells onto your shoulders.  Use controlled momentum to get them into the starting position
Set your stance just outside of shoulder width
Begin the movement by taking a big breath, holding it in and squeezing your glute muscles
Start pressing the dumbbells overhead, keeping your elbows in a straight trajectory
Press the weights directly overhead in as straight a line as possible, it is not necessary to touch the dumbbells at the top of the movement
It is unnecessary to rotate the dumbbells excessively
Reverse the movement by lowering the dumbbells back down in contact with your shoulders
COMMON MISTAKES
PRESSING THE WEIGHT IN FRONT OF YOUR BODY
Not pressing the dumbbells directly over your mid-line places your shoulder joints in a compromised position and it does not adequately train all three shoulder heads
Do your best to press the weight directly over your head
EXCESSIVELY ARCHING THE BACK TO INITIATE THE MOVEMENT
This technical issue usually occurs when the weight is too heavy
Arching your back places a large strain on the lumbar spine increasing the risk of injury
Maintain your glutes squeezed, and your abdominal muscles braced throughout the movement
NOT PERFORMING A FULL RANGE OF MOTION
Bring the dumbbells all the way down back to your anterior shoulders to activate all of the motor units of this large muscle group
HOW CAN I INTEGRATE THE DUMBBELL OVERHEAD PRESS INTO MY TRAINING?
Check out The WCT Best Workout Template For Busy Professionals to find a simple way to add the dumbbell overhead press and other great exercises into your routine.
STANDING DUMBBELL OVER HEAD PRESS ALTERNATIVES
---
---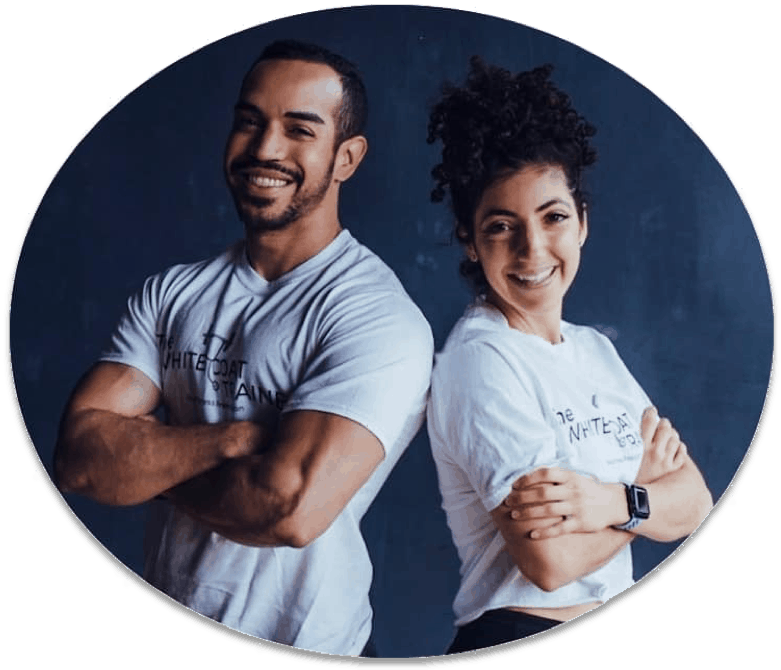 Alex Robles, MD, CPT / Brittany Robles, MD, MPH, CPT
Alex & Brittany Robles are physicians, NASM Certified Personal Trainers, and founders of The White Coat Trainer: a resource dedicated to improving the health and fitness of busy professionals using time-efficient strategies. Their advice has been featured in My Fitness Pal, Prevention, Livestrong, Reader's Digest, Bustle, The Active Times, and more. Learn more about them here.
---