The Kensui EZ Vest is excellent.
It's a plate-loaded weight vest that is super comfortable and easy to use.
In my opinion, it is the best weighted vest on the market.
But there is one thing I don't like about it.
Keep reading to learn more.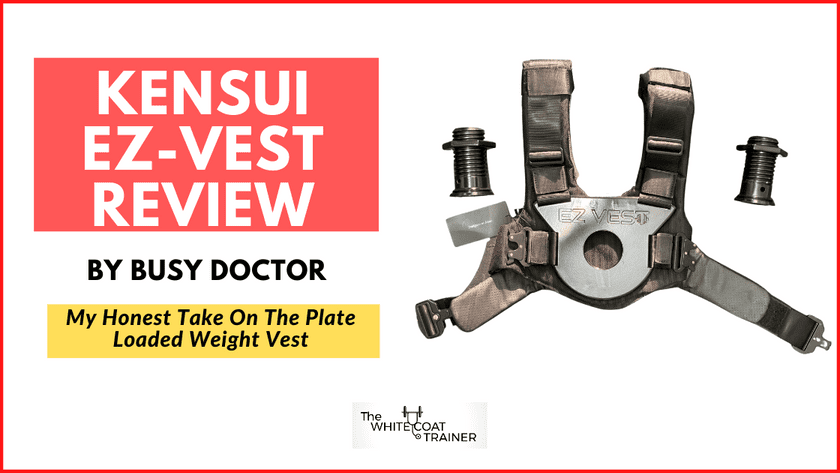 Disclaimer:
Although we are doctors and personal trainers, we are not your doctors. The content on this site is for informational purposes only and should not substitute the advice from your healthcare professional. All kinds of exercise and dietary activities are potentially dangerous, and those who do not seek counsel from the appropriate health care authority assume the liability of any damage or injury which may occur. Please read our full Disclaimer for more information. Also, this post may contain affiliate links: meaning we may receive a commission if you use them.
Okay, let's get started.
---
---
Is The Kensui EZ Vest Any Good?
The Kensui EZ Vest is a fantastic product. It is the first of its kind and solves one of the biggest problems of calisthenics training – the inability to progressively overload bodyweight exercises in a straightforward manner.
In addition, the vest is comfortable due to its sleek design and adjustable straps.
Let's go over each benefit in more detail.
Benefit #1: Progressively Overload Any Calisthenics Movement
Anyone who has tried weighted calisthenics knows how difficult it is to find comfortable ways to add weight continuously.
The Kensui EZ Vest solves this problem.
Now, you can add weight to any movement (without needing specialty plates) and progress at your own pace.
You no longer need to use an annoying dip belt!
Benefit #2: Comfortable And Easy To Use
The Kensui EZ Vest is also very comfortable and easy to use.
The vest is made of a breathable material that doesn't make you sweat and is adjustable to fit any body type.
The best part is that the front-loaded plates are easy to load and unload, so you can quickly adjust the weight without taking the whole vest off.
Plus, it has enough padding to make it comfortable to wear even when loaded with several weights.
Benefit #3: Superb Quality
Thirdly, this adjustable vest is built to last. It is made of high-quality materials that look like they will withstand years of wear and tear.
They do not skimp on any of the materials.
I originally had the V2 Pro version and that one was impressive.
Then I got the V2 Max – and whoa. The quality is incomparable.
For example:
The Max has an inner polyurethane (PU) leather which is soft, durable, and machine washable in cold water,
The detachable weight sleeves are rock solid, and
The spin lock collars are strong and keep the weights snuggly in place, even if you are bouncing around
Even the drawstring bag that it comes in is of super high quality!
After using my vest for several months, it is still in excellent condition.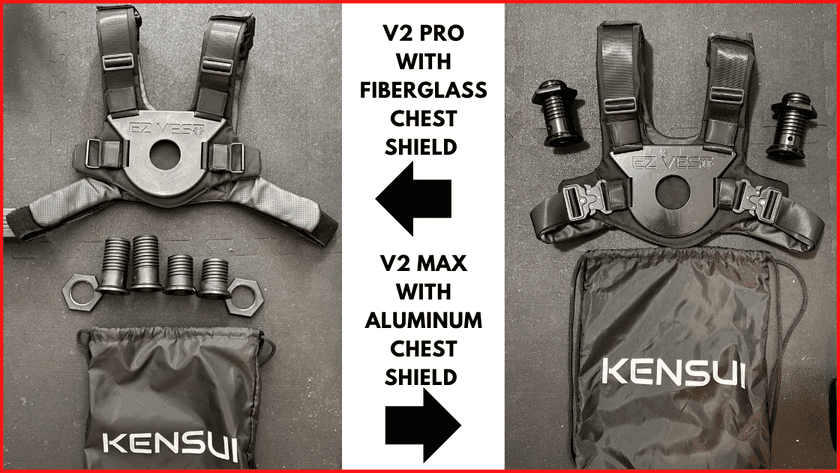 Benefit #4: Useful Accessories
Another great benefit of this weight vest is the option to choose among a few different plate sleeves.
It comes with two 2-inch removable sleeves that accommodate Olympic weight plates.
In addition, you can upgrade to the longer 2-inch sleeves to use with the much bulkier Olympic bumper plates.
Lastly, you can buy the adapter to use the smaller, standard 1-inch plates you find at sporting goods stores.
There are a few other accessories that you can browse on the site.
Benefit #5: The Kensui Community
Lastly, when you purchase the weight vest, the founder sends you a helpful training guide, and you get access to the private VIP Facebook group.
In it, you get to see how others are using the vest and get tips from long-time users.
Almost everyone there loves the product and has great things to say about the product.
Plus, the customer service is super responsive!
Examples of The WCT's Using The Vest On Different Types of Exercises
As you can see, the vest allows us to use a full range of motion in basic compound exercises.
It is best to use it for exercises like:
Push ups
Pull ups
Dips
Squats
Lunges
Planks
Some people even do handstand pushups with this vest.
–
Okay, now let's get to some of the downsides.
Downside #1: Cost
The Kensui EZ Vest is not cheap. There are three different sizes:
The EZ-vest Lite,
The EZ-vest Pro, and
The EZ-vest Max.
I have the Pro and the Max because I wanted the ability to overload my pull-ups and dips above 100 lbs. However, the Lite is fine for most people.
Still, the Lite version costs $99, the Pro version costs $140, and the Max version costs $250.
That said, this is a super high-quality weight vest, and the price is competitive compared to other top-end weight vests.
Downside #2: You need several plates to get the most benefit
The other downside is that you need several weight plates to use this vest maximally.
If you do not have access to at least two or three Olympic plates, this vest is useless to you. The good news is that Olympic weight plates can be relatively inexpensive.
Usually, you can get some for around $1-2 per pound.
I recommend getting, at the minimum:
A pair of 2.5 lb plates
A couple of 5 lb plates
A couple of 10 lb plates
With these, you can make incremental progressions in your calisthenics exercises.
If you are a serious calisthenics athlete, you will probably want more weight than that, but those are the basics.
Downside #3: It can be a little awkward with 45 lb plates
The last downside is that the weight vest can be a little awkward with 45 lb Olympic plates. The 45s are a little too big and bulky.
I have a pair of 45 lb bumper plates, and I use them with the vest sparingly because they are just too big and unwieldy.
I once did pull-ups with a 45 lb plate on the front and back, which was tricky.
If you want to go heavy, it can be a challenge to put the vest on because of the way you have to load the plates.
I.e., it is easy to load the front sleeve while wearing the vest, but you will need to load the back sleeve with your weight before putting it on.
–
I knew about these three downsides before purchasing the Kensui EZ Vest, and I still decided it was worth the price.
Why?
Because it is unmatched in terms of convenience, usefulness, and comfort for my use case.
Now, there is one thing that I don't like about this great vest.
The WCT's Biggest Complaint About The Vest
The only thing I dislike about the Pro vest (which is no fault of the Kensui Fitness team) is the mobility needed to undo the velcro straps when taking it off.
When you tighten the vest onto your chest, the velcro side straps reach far back. Given that I have short arms and suboptimal shoulder mobility, I sometimes have difficulty undoing the velcro when I want to take the vest off.
Sometimes, I cannot do it without help.
This is not a big deal because I have learned not to make the vest too tight and leave some room to undo the velcro when needed.
*With that said, you won't have this issue with the Max. The Max doesn't use the velcro straps and instead uses a much nicer buckle system that works seamlessly.
Other Related Questions
What is the heaviest weighted vest at Kensui?
The heaviest vest that Kensui makes is the Max vest, which has a weight capacity of 300 lbs and is marketed as the world's heaviest vest.
Can I do push-ups with the EZ vest?
Yes, you can do push-ups with the Kensui vest. The great thing about this vest is that the weight sleeves are detachable.
If you are doing push-ups on the ground, it is best to remove the front sleeve to avoid it making contact with the floor, which will be super uncomfortable.
Otherwise, you can do push-ups on gymnastic rings or with push-up handles and load both sides.
Can I run with this vest?
I haven't tried to run with the Kensui EZ Vest, but I don't see why you couldn't. It is lightweight and breathable, and you can adjust it to create a very snug fit.
I would suggest keeping the weight very light to see how comfortable the vest is while running.
Is walking with a weighted vest good cardio?
Walking with a weighted vest is a great way to get some cardio and burn extra calories.
Walking is a relatively low-intensity cardio exercise, making it a good choice for people who are just starting to get active or have joints that are sensitive to impact.
Do You Have A Discount Code?
Yes – click this link and then use the code WCT to get 10% off your entire order!
The White Coat Trainer's Bottom Line On The Kensui Plate Loaded Weight Vest
The Kensui Weight Vest is one of the best investments I have made for my home gym.
It allows me to incrementally progress in my calisthenics workouts and train for pure strength.
I highly recommend it if you are serious about taking their bodyweight strength training beyond the beginner and intermediate stages.
Now I want to hear from you.
How would you incorporate this vest into your workout? Comment below and let me know!
Related Post
---
---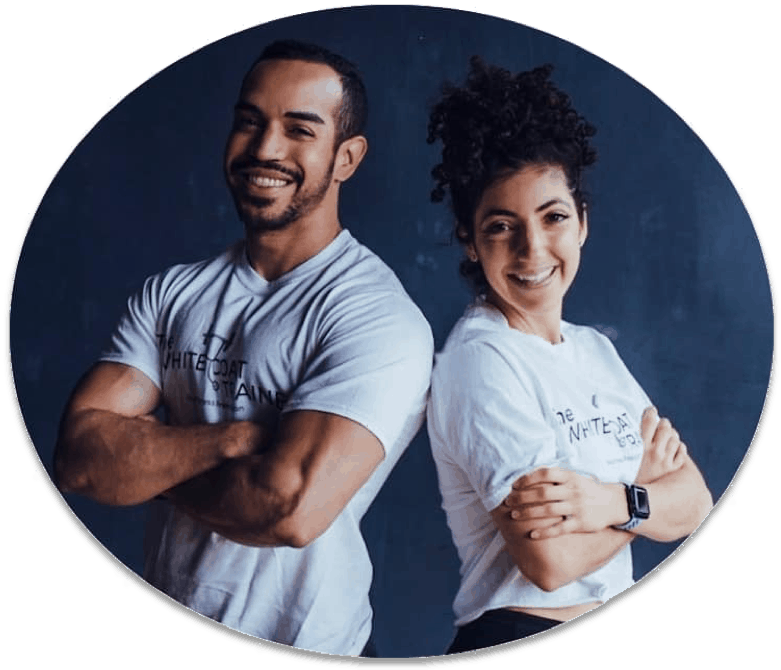 Alex Robles, MD, CPT / Brittany Robles, MD, MPH, CPT
Alex & Brittany Robles are physicians, NASM Certified Personal Trainers, and founders of The White Coat Trainer: a resource dedicated to improving the health and fitness of busy professionals using time-efficient strategies. Their advice has been featured in My Fitness Pal, Prevention, Livestrong, Reader's Digest, Bustle, The Active Times, and more. Learn more about them here.
---