In this post, you're going to learn the 3 things I use every day to help me stay fit & healthy…
Even with an 80-hour workweek.
Specifically, these 3 things
Help me meal prep healthy foods quickly and effortlessly
Help me consume more fruits and vegetables on a daily basis
Help me be more consistent with exercise
The best part? These 3 things are perfect for busy people like you and me, as they help save A LOT of time.
With an 80 hour work-week, time is not something that we have a lot of.
Keep reading.
This Helps Me Meal Prep Healthy Food Quickly and Effortlessly:
Brittany and I meal prep all of our food once or twice a week.
We have written extensively on the benefits of meal prep, and why I think all busy professionals should invest the time to do it.
In short, when you meal prep:
You don't have to worry about where your lunch is going to come from
You save a lot of $$$
You get to control the ingredients going into your food!
That last point is super important.
That is one of the biggest keys to eating healthily.
So what did we use every day (or weekly) to meal prep efficiently?
The Instant pot is a gamechanger.
Before getting it, meal prepping for the week would usually take us over 3 hours a day.
Needless to say, it was a huge time suck.
Especially when you work 80 hours a week and you barely have one day off a week. We would often have to scramble on that day off to get everything ready for the upcoming week.
Sometimes, we wouldn't even be off on the same day every week.
Since getting the Instant Pot, meal prepping has become SO EASY.
We are now able to get the same amount of food prepared in about half the time.
The best part?
The food cooks itself.
All we have to do is turn the Instant Pot on, set the timer, and walk away. It will beep when the food is finished.
We no longer have to stand over the oven stirring the food and making sure it doesn't get overcooked. We can also spend that time prepping something else or doing the dishes.
What Do We Make With The Instant Pot?
We have been using the Instant Pot every single weekend to create a wide variety of dishes including
curries,
pasta,
beans,
split pea soup,
rice, quinoa, farro, and other grains
and steamed vegetables
All you have to do is "google instant pot recipe" + "____" ingredient you happen to have and you will get amazing recipes that can be done in 30-60 minutes.
Meals that can last you anywhere from 4-6 days!
We love the Instant Pot so much, we actually bought two.
We usually have one cooking the grains, potatoes, or curry- and the other one cooking steamed vegetables.
Okay, I lied. We have three.
Because… you know… you never know when you'll need three.
Benefits Of The Instant Pot
Saves us at least 50% of cooking time
Allows us to "Set it and forget it": put your ingredients in, turn it on, go do whatever else you need to do, come back when it beeps
Easy to clean – minimizes dishes needing to be washed
Has multiple functions (pressure cook, steam, saute, soup, rice, and more)
Which Instant Pot Should You Get?
We have three of the 7 in 1 6 Quart Instant Pot Duo. I think this one is more than adequate for most people.
Get one – you won't regret it.
If you can get the 6 quart 7 in 1 Instant Pot for less than $99 – get it. It's a great deal.
Now to thing #2.
This Helps Me Eat More Fruits & Vegetables
I struggle to eat 5-7 servings of fruits and vegetables every day.
I'm sure you do too.
But that's too bad. Because we have to do it. Fruits and vegetables contain so many critical nutrients that you could only get from eating fruits and vegetables.
After buying this next item, we easily hit our numbers every single day.
I first bought a Nutribullet ~5 years ago and I have never looked back.
It's one of those investments I've made that I didn't have one ounce of regret making.
This thing is powerful!
It has a 1700 watt motor that can literally rip through anything.
That's why we use frozen fruits and vegetables when making our smoothies.
The Nutribullet is by far the easiest way to consume a lot of nutrient-dense foods in a short amount of time.
In fact, we don't use it just once a day, we use it twice a day.
What Do We Make With The Nutribullet Rx?
Power Smoothies
Each morning, Brittany and I use the Nutribullet Rx to make a WCT Power Smoothie.
This is a green smoothie that contains
two servings of fruit,
one serving of leafy green veggies,
one or two other servings of vegetables
coconut water (for natural sweetness)
and seeds (for healthy omega-3 fats)
Now that's a lot of nutrition.
If it weren't for these Power Smoothies, we would struggle to get a sufficient amount of vegetables into our diet.
Once a week, while the Instant Pot is meal prepping our weekly food – we start prepping weekly Power Smoothies.
We basically put all of the ingredients for one smoothie inside a reusable silicone zipper bags.
These are the ones we use from Amazon.
We make anywhere from 6-12 Power smoothies and store them in the freezer.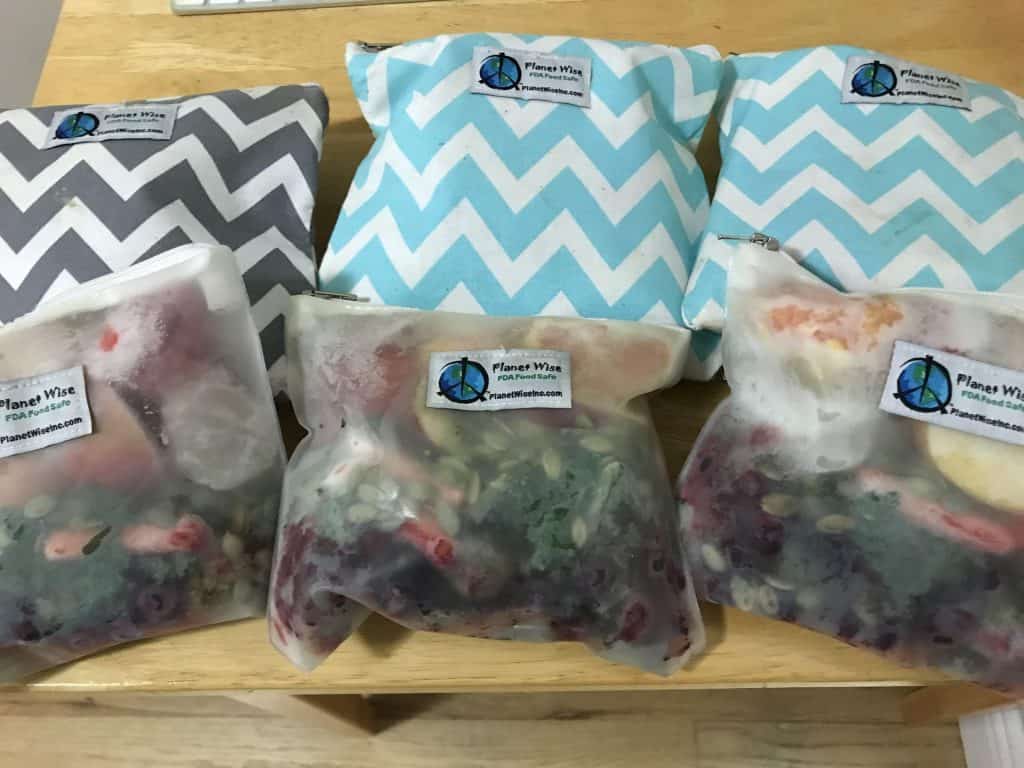 Every morning, we take one bag out of the freezer, throw it in the Nutribullet add coconut water and then we're done.
In less than 5 minutes – we have 5+ servings of fruits and vegetables ready to go.
These Power Smoothies also serves as a huge energy boost early in the morning. Often times, they are more than enough to keep us satisfied for breakfast.
WCT Post-Workout Shake
The second thing we use the Nutribullet for is to make post-workout shakes.
After every workout, we make our signature protein shakes that contain
almond milk,
pea protein,
almond butter, and
frozen bananas
For this post-workout shake, we use the smaller Nutribullet 900, as we don't need a motor as powerful as the one found in the Nutribullet Rx.
The post-workout shake ensures that we get a nice serving of muscle-building nutrients that can be prepared in 5 minutes or less.
Benefits Of The Nutribullet Rx
Powerful high-speed blender at an affordable price
Tears through frozen foods easily
Makes delicious green smoothies in less than 5 minutes
We bought our Nutribullet Rx 5 years ago for about $200. If you can find one for less than $150- it's a great deal.
Now let's move on to the third and final thing I use every day to stay fit.
This Helps Me Stay Consistent & Motivated To Exercise
Ever since I got serious about my training, I began tracking my workouts on some type of electronic device.
After trying many different programs and software, nothing is better than an Excel Spreadsheet.
I have records of my workouts going back to 2009. (It's crazy to think that it's already been more than a decade)
You see, if your goal is to lose fat, get stronger, or build muscle – you need to have a reliable way to keep track of your progress.
There is nothing more motivating than seeing how far you have come over the past 5 weeks, 5 months, and even 5 years.
A spreadsheet helps me maintain consistency because I can map out an entire 4-12 week training cycle.
This is the best way to stay organized and develop workouts that will only take 30 minutes to do.
This is why I provide you with a done-for-you, fill-in-the-blank spreadsheet for the WCT Strength Program.
Give it a try.
Start jotting down all of your workouts in a spreadsheet. Not only will it motivate you seeing your program so nicely laid out, but you will also feel bad if you miss a workout.
If you don't want to do it yourself, I already made one for you with the WCT strength program.
Something about seeing your workout schedule in a spreadsheet makes you want to make up any missed workouts ASAP.
There's definitely something to it if I have all of my workout programs dating back to 2009 on different spreadsheets!
Final Thoughts
With these 3 things, I am able to prioritize my nutrition, ensure that I am feeding my body the nutrients it needs, and stay focused on my workouts.
What do you use on a daily basis that you've found to have an impact on your health and wellbeing?
We'd love to hear about them.
---
---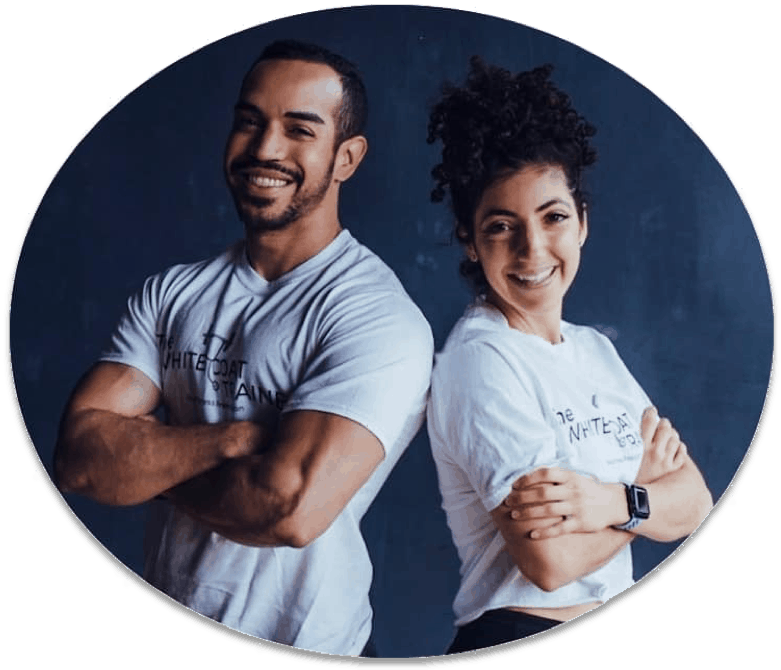 Alex Robles, MD, CPT / Brittany Robles, MD, MPH, CPT
Alex & Brittany Robles are physicians, NASM Certified Personal Trainers, and founders of The White Coat Trainer: a resource dedicated to improving the health and fitness of busy professionals using time-efficient strategies. Their advice has been featured in My Fitness Pal, Prevention, Livestrong, Reader's Digest, Bustle, The Active Times, and more. Learn more about them here.
---