Weighted (loaded) carries are an extremely beneficial exercise that challenges the core musculature in one of the most functional ways possible. 
They teach you how to hold an uneven load while maintaining your spinal integrity, which mimics numerous real-world activities (carrying groceries, your children etc). 
Carries can be done with minimal equipment and it combines walking with strength training. These should be a staple exercise in all training routines.
Disclaimer:
Although we are doctors and personal trainers, we are not your doctors. The content on this site is for informational purposes only and should not substitute the advice from your healthcare professional. All kinds of exercise and dietary activities are potentially dangerous, and those who do not seek counsel from the appropriate health care authority assume the liability of any damage or injury which may occur. Please read our full Disclaimer for more information. Also, this post may contain affiliate links: meaning we may receive a commission if you use them.
Okay, let's get started.
---
---
WEIGHTED CARRY FORM VIDEO
BENEFITS OF THE LOADED CARRY
Translates to real-world applicability as we often need to carry uneven loads
Combines Cardio with strength training
Requires minimal equipment to be performed
Strengthens the abdominal/core muscles in resisting flexion, extension and lateral flexion movement patterns
Provides many different variations to provide progressively difficult challenges  
MUSCLES WORKED DURING THE LOADED CARRY
Rectus Abdominus
Obliques
Transverse Abdominus
Forearms/Grip
Glutes
PERFORMING WEIGHTED CARRIES WITH PROPER TECHNIQUE
This tutorial will go over three carry variations – The Suitcase, The Rack and the Waiter Carry
WAITER CARRY
The Waiter Carry is the most challenging variation of the three, as you have to balance the weight above your head.
Obtain a light dumbbell and clean it onto your shoulder using some momentum
From this position, press the weight overhead and keep your elbow locked out

, and your

shoulder externally rotated

(think rotating your right-hand clockwise, or your left-hand counterclockwise)
Brace your core and squeeze your glutes
Begin walking while maintaining the weight balanced overhead and your core tight
Do not allow any lateral flexion or deviation of your spine from a neutral position
After you have walked the desired distance- switch hands and walk back to where you started
A good starting point is 50 feet
Feel free to walk quickly, but do not let your technique falter  
RACK CARRY
This variation is less challenging than the Waiter carry, and thus you can use a slightly heavier load.
Clean a dumbbell onto your shoulder, and position it into a comfortable groove where you can support the weight with your hand and with your shoulder
The remainder of the movement is the same
SUITCASE CARRY
This variation is the easiest of the three, and therefore you can use a heavier load
Simply obtain a dumbbell and hold it at your side in your outstretched hand
Keep the weight close to your body and do not let your spinal alignment change
The remainder of the movement is the same
OTHER LOADED CARRY VARIATIONS
FARMER CARRY: Two-handed variation of the Suitcase Carry
COMBINED CARRY: Holding one dumbbell as a Suitcase and the other as a Waiter
TRAP BAR CARRY: Standing inside a loaded Trap Bar, deadlifting it, and walking the desired distance
COMMON MISTAKES
SACRIFICING TECHNIQUE FOR SPEED
This exercise is meant to primarily train your core muscles. Do not let your spinal integrity change just to get through the exercise faster.
HOW CAN I INTEGRATE THIS EXERCISE INTO MY TRAINING?
Check out our workout template for busy people to learn how to incorporate this exercise and every other functional exercise into your training routine.
LOADED CARRY ALTERNATIVES
---
---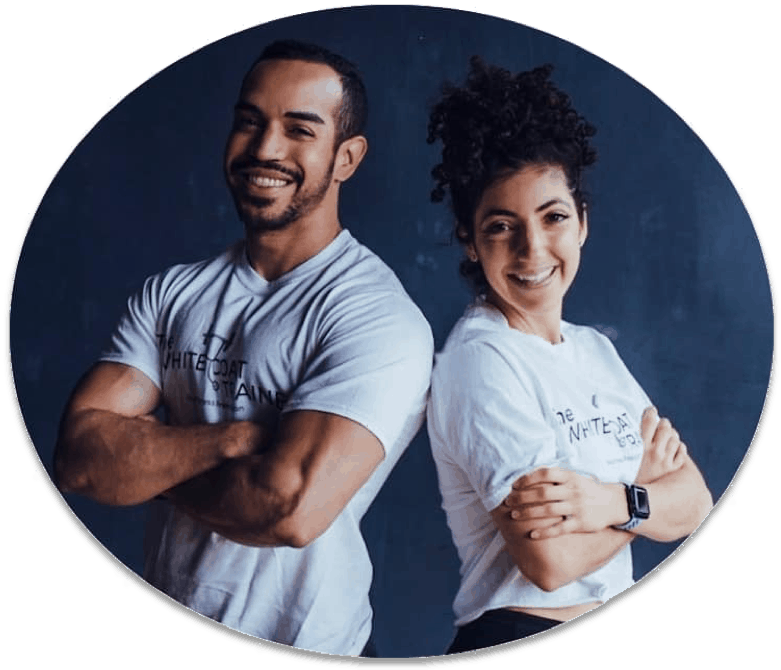 Alex Robles, MD, CPT / Brittany Robles, MD, MPH, CPT
Alex & Brittany Robles are physicians, NASM Certified Personal Trainers, and founders of The White Coat Trainer: a resource dedicated to improving the health and fitness of busy professionals using time-efficient strategies. Their advice has been featured in My Fitness Pal, Prevention, Livestrong, Reader's Digest, Bustle, The Active Times, and more. Learn more about them here.
---