Popularized by Bruce Lee, the dragon flag is an amazing core exercise that teaches ultimate core stability.
It also looks really cool.
To learn how to do the dragon flag, you need to break it down first. This impressive exercise is simply the most advanced version of the reverse crunch.
This post will show you a progression of exercises that you should do before attempting this advanced movement.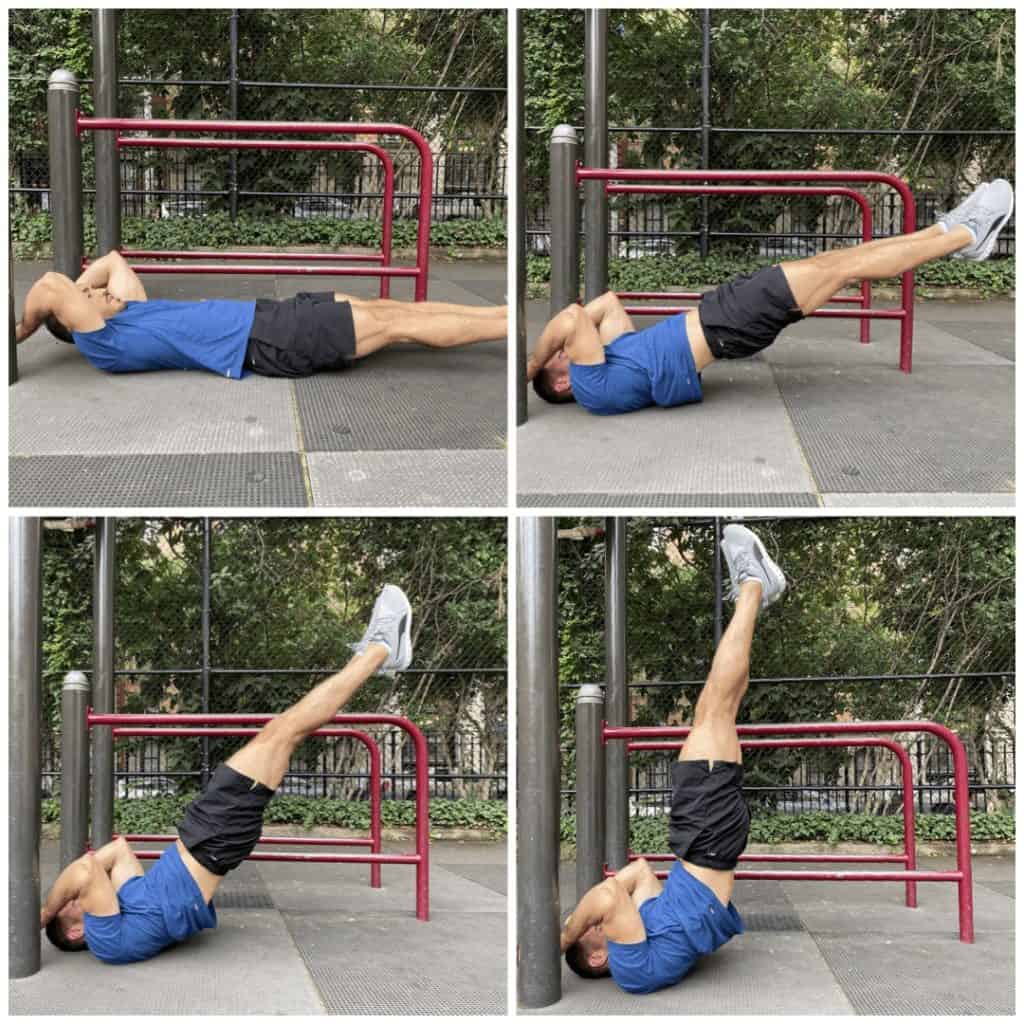 Disclaimer:
Although we are doctors and personal trainers, we are not your doctors. The content on this site is for informational purposes only and should not substitute the advice from your healthcare professional. All kinds of exercise and dietary activities are potentially dangerous, and those who do not seek counsel from the appropriate health care authority assume the liability of any damage or injury which may occur. Please read our full Disclaimer for more information. Also, this post may contain affiliate links: meaning we may receive a commission if you use them.
Okay, let's get started.
---
---
DRAGON FLAG FORM VIDEO (WITH REGRESSIONS)
BENEFITS OF THE DRAGON FLAG
Trains the lower abdominal muscles for extreme stability
Helps prevent spinal extension under load, which is critical for low back health
Teaches how to maintain total body tension
MUSCLES WORKED DURING THE DRAGON FLAG
The dragon flag trains your entire core including the:
Rectus Abdominis
Transverse Abdominis
Obliques
Glutes
Other Core Stabilizers
PERFORMING THE DRAGON FLAG PROGRESSIONS WITH PROPER FORM
Now let's go through some progressions to help you learn how to do this advanced exercise with correct form.
Beginner (Tuck Dragon Flag)
Lay completely flat on a bench
Reach overhead and grab both sides of the bench for support
Straighten out your legs until your body achieves a position parallel to the bench
Begin the movement by bending at the hips and knees so that your bent knees make contact with your elbows
Once they make contact, slowly reverse the movement back to the starting positions with your legs straightened out
Ensure that you keep your core muscles tight and engaged throughout the entire movement
It is important to perform this exercise in a controlled manner
Intermediate Progression
For a more advanced variation, completely straighten your legs at the halfway point in the movement, directly overhead after making contact with your elbows
Your body will be perpendicular to the bench
Hold this position for a 1 count
Slowly reverse the position by bringing your knees back down to your elbows
Then return your legs back to the straightened starting position
Again keep your core activated at all times
To make this advanced move more challenging, you can add ankle weights.
Advanced Progression: Dragon Flag Negatives
For the most advanced variation, you will lower your legs back down to the starting position from the perpendicular position without bending your knees
It is critical to maintain absolute

control over your body position throughout the entire movement

Squeeze your glutes and contract your core as much as you possibly can and try to maintain your upper body in a bit of a hollow position
Do not attempt this variation until you have mastered the previous two
If you are unable to keep your legs straight, try this exercise with a slight bend at the knee or with your legs straddled far apart.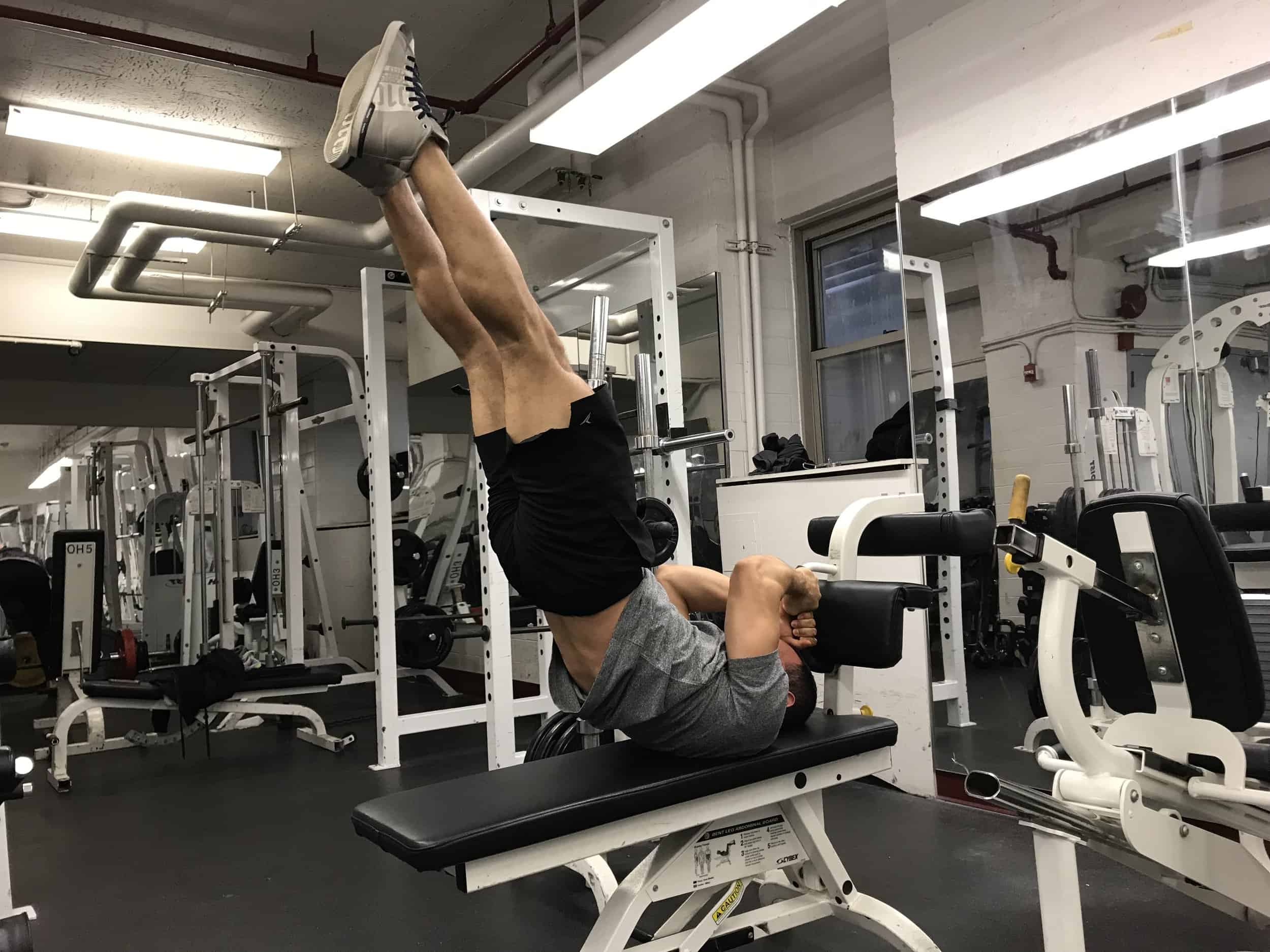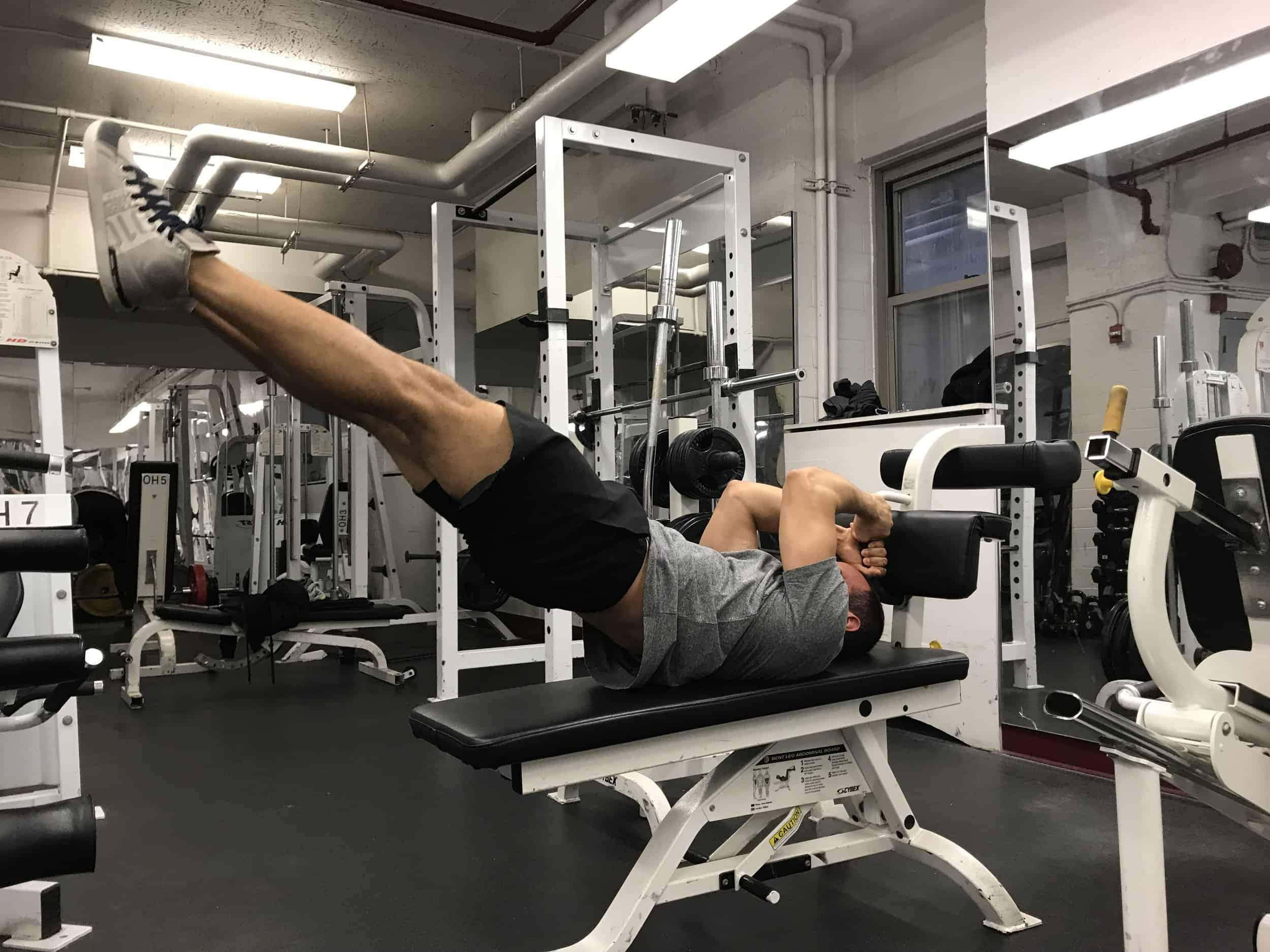 Once you can do 3-5 dragon flag negatives, you should be strong enough to do the full dragon flag.
COMMON MISTAKES WHEN DOING THIS EXERCISE
BENDING AT THE HIPS/ NOT KEEPING STRAIGHT LEGS
Bending at the hips is a common mistake and usually happens when you are not yet strong enough to keep your legs fully extended.
Make sure to keep your glutes and your core as activated as possible to maintain your body in a straight line.
It might also help to stretch your hip flexors.
ARCHING THE LOWER BACK
At no point should you let your lower back arch when performing this exercise to avoid the risk of injury. Keep your pelvis neutral, your core engaged, and try to maintain a nice hollow body position.
MOVING TOO QUICKLY
This movement must be done in a nice controlled manner for optimal effect. Do not rush through the exercise just to get the reps done.
---
By The Way… The Dragon Flag is just one of several compound exercises you should be doing
To see a list of all the best exercises, be sure to check out our E-book that goes over all of the best compound movements for the entire body!
We also go over them all in The Best Compound Exercises of All Time.
---
Other Frequently Asked Questions
Is dragon flag hard?
Yes, the dragon flag is one of the most difficult calisthenics exercises you can perform! It is unbelievably challenging to maintain your entire torso rigid against gravity.
How long does it take to master the dragon flag?
It can take as little as 3 months for a trained individual to master this exercise, while untrained or heavier individuals might need a year or more.
How long should you hold a dragon flag?
The dragon flag isn't really an isometric / static hold exercise. You will get the most benefit by performing concentric and eccentric repetitions and working your core through a bigger range of motion.
How Should you breathe on a dragon flag?
When doing the concentric portion of the exercise (lifting your legs up) take a deep breath and hold it in. When performing the eccentric portion, slowly let out shallow breaths as you maintain constant core tension.
Does the dragon flag help The front lever?
Yes, the dragon flag can improve your front lever technique by strengthening your isometric core and lower body strength. However, you still need to train the front lever as it requires a lot of upper back and lat strength that the dragon flag doesn't train.
Can you do dragon flags at home (Without Equipment?)
The best way to train the dragon flag at home is to find a sturdy pole or a beam that can support your full bodyweight. Unfortunately, there is no other way to do this exercise without a sturdy object to support yourself.
HOW CAN I INTEGRATE THE DRAGON FLAG EXERCISE INTO MY TRAINING?
Check out The WCT Best Workout Template For Busy Professionals to find a simple way to add this advanced core exercise and other great exercises into your training routine.
DRAGON FLAG ALTERNATIVES
Many would argue that the dragon flag is the best core exercise, but there are other core stabilization movements you can do.
Here are some great alternatives to challenge your isometric core strength.
---
---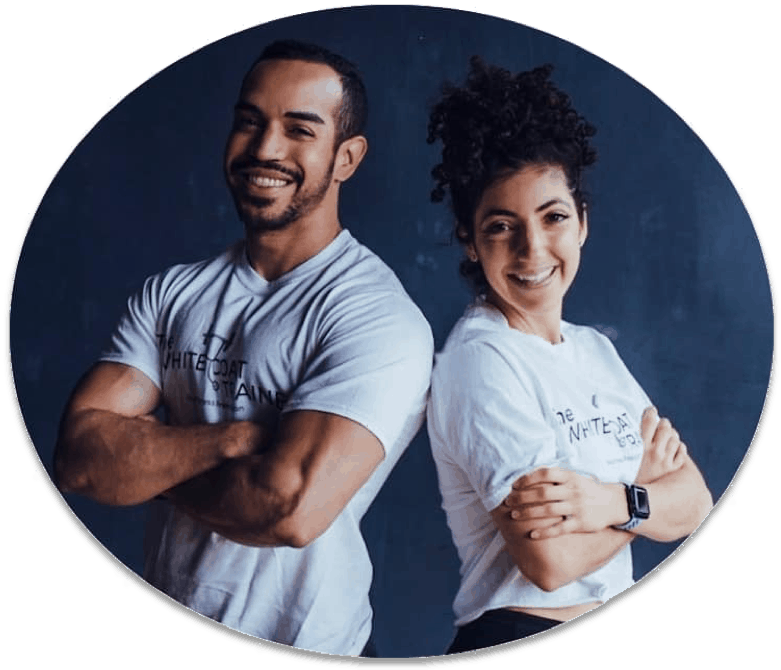 Alex Robles, MD, CPT / Brittany Robles, MD, MPH, CPT
Alex & Brittany Robles are physicians, NASM Certified Personal Trainers, and founders of The White Coat Trainer: a resource dedicated to improving the health and fitness of busy professionals using time-efficient strategies. Their advice has been featured in My Fitness Pal, Prevention, Livestrong, Reader's Digest, Bustle, The Active Times, and more. Learn more about them here.
---