Strength and stability are absolutely paramount to having a healthy shoulder joint.
While traditional overhead pressing exercises are great for developing strength, the Bottoms Up Kettlebell Press provides a unique challenge for trainees of all levels.
By holding the kettlebell upside down, it forces you to stabilize your shoulder joint, engage your core muscles and perfect your pressing technique.
This exercise is particularly helpful in individuals who may have unstable shoulder joints or rotator cuff injuries.
---
---
BOTTOMS UP KETTLEBELL PRESS FORM VIDEO
BENEFITS OF THE BOTTOMS UP KETTLEBELL PRESS
Strengthens and improves the stability of the deltoid muscles and the rotator cuff, making it useful for someone undergoing rehab
The instability of the load will require you to recruit many more muscle fibers helping to strengthen the rotator cuff muscle
Significantly improves your pressing technique as anything short of great technique will result in an inability to perform a repetition
You cannot perform this exercise incorrectly, and it requires minimal coaching
Teaches you the importance of keeping your core and glutes braced, which is a technique that you must learn for all compound exercises
MUSCLES WORKED DURING THE BOTTOMS UP KETTLEBELL PRESS
Deltoids
Rotator Cuff
Triceps
Core
PERFORMING THE BOTTOMS UP KETTLEBELL PRESS WITH PROPER TECHNIQUE
Obtain a light kettlebell and position it onto your shoulder in a bottoms-up position
The bell will be facing up and the handle will be down
Ensure that you grip the kettlebell tightly, and keep your elbow close to your body as the bottom up position will immediately create an unstable weight
Brace your core, squeeze your glutes, and focus on keeping the kettlebell absolutely still before beginning the exercise
This will activate all of the surrounding muscles of the shoulder joint
Begin pressing the kettlebell directly overhead until your elbow is locked out
Your body will naturally find the path of most stability, ensuring that your technique is correct
Slowly lower the weight and perform for the desired amount of repetitions
The exercise can be performed with one hand at a time, or with both hands simultaneously.
COMMON MISTAKES
It is almost impossible to do this exercise incorrectly. Any deviation from perfect technique will simply cause the weight to become unstable and prevent you from performing a repetition.
HOW CAN I INTEGRATE THIS EXERCISE INTO MY TRAINING?
Check out our workout template for busy individuals to learn how to incorporate this exercise and every other functional exercise into your training routine.
BOTTOMS UP KETTLEBELL PRESS ALTERNATIVES
---
---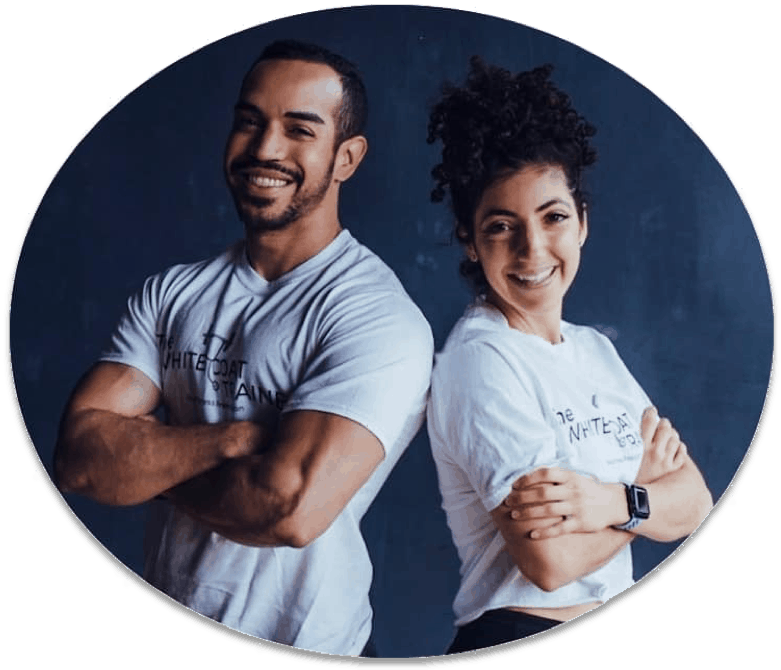 Alex Robles, MD, CPT / Brittany Robles, MD, MPH, CPT
Alex & Brittany Robles are physicians, NASM Certified Personal Trainers, and founders of The White Coat Trainer: a resource dedicated to improving the health and fitness of busy professionals using time-efficient strategies. Their advice has been featured in My Fitness Pal, Prevention, Livestrong, Reader's Digest, Bustle, The Active Times, and more. Learn more about them here.
---