The Alphabet Plank is an excellent ab exercise that teaches the principle of core stability.  
Proper abdominal training should focus on resisting motion, and maintaining a neutral spinal alignment in different positions.  
The alphabet plank forces you to resist spinal extension, and thus, we consider it to be a fundamental exercise.
Disclaimer:
Although we are doctors and personal trainers, we are not your doctors. The content on this site is for informational purposes only and should not substitute the advice from your healthcare professional. All kinds of exercise and dietary activities are potentially dangerous, and those who do not seek counsel from the appropriate health care authority assume the liability of any damage or injury which may occur. Please read our full Disclaimer for more information. Also, this post may contain affiliate links: meaning we may receive a commission if you use them.
Okay, let's get started.
---
---
ALPHABET PLANK FORM VIDEO
BENEFITS OF THE ALPHABET PLANK
Strengthens the entire core musculature including the rectus abdominis, the lateral obliques, the transverse abdominis and also the gluteus maximus
Teaches the core how to prevent spinal extension, which is crucial for spinal health and low back pain prophylaxis.  
MUSCLES WORKED DURING THE ALPHABET PLANK
Rectus Abdominus
Transverse Abdominus
Obliques
Glutes
PERFORMING THE ALPHABET PLANK WITH GOOD TECHNIQUE
Position yourself on a stability ball

in a plank position with your elbows resting on the ball and your feet positioned behind you

Keep your feet close together, if you feel unstable, feel free to widen your foot position
Once in the plank position, ensure that you keep your core muscles braced, and your glute muscles squeezed throughout the entire movement
Also ensure that you maintain a neutral spinal alignment, especially at the neck
Begin the exercise by drawing the letters of the alphabet with your elbows through subtle controlled movements
Make sure that you keep your core and glutes engaged and do not let your spinal alignment change! This is the most critical part of the exercise
Feel free to draw the letters of the alphabet from A to Z or the name of a loved one for a fun variation
Take as many sets as necessary to draw the entire alphabet.  Do not be surprised if you can only draw 6-8 letters per set.
Over time, your core strength and endurance should improve
COMMON MISTAKES
NOT KEEPING YOUR SPINE NEUTRAL
This places excessive strain on the lumbar spine and cervical spine. Keep your core and glutes active and engaged and look down at the bosu ball
EXCESSIVE MOVEMENT OF THE BODY
Ensure that you utilize subtle controlled movements of your arms only. The rest of your body should remain fixed
CHALLENGE
Aim to complete the entire alphabet in 1 set
ALPHABET PLANK ALTERNATIVES
---
---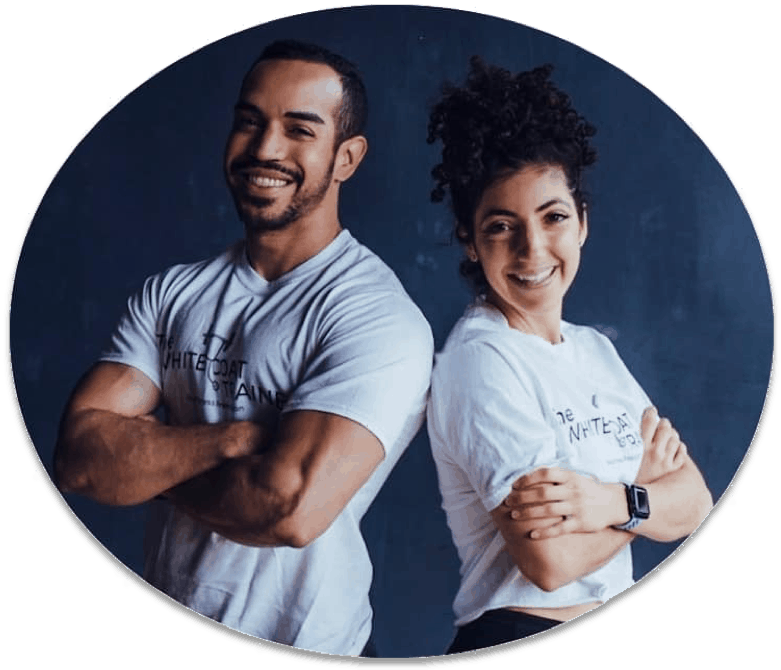 Alex Robles, MD, CPT / Brittany Robles, MD, MPH, CPT
Alex & Brittany Robles are physicians, NASM Certified Personal Trainers, and founders of The White Coat Trainer: a resource dedicated to improving the health and fitness of busy professionals using time-efficient strategies. Their advice has been featured in My Fitness Pal, Prevention, Livestrong, Reader's Digest, Bustle, The Active Times, and more. Learn more about them here.
---