Should you invest in adjustable dumbbells?
Are they good for home gyms?
In this post, you will learn:
the pros and cons of adjustable dumbbells compared to regular dumbbells,
how they work,
and whether adjustable dumbbells are the right investment for you.
Let's get started.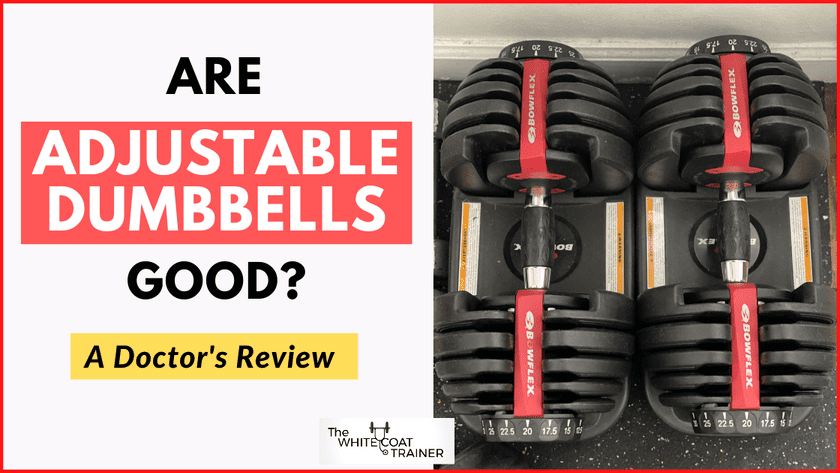 ---
---
Are Adjustable Dumbbells Good?
Yes, adjustable dumbbells are good. They are convenient, space-saving, and feature an extensive enough weight range to satisfy the majority of lifters.
Modern adjustable dumbbells are an excellent investment if you build a home gym and are short on space.
They are also a good option if you want to save money by buying one set of dumbbells instead of multiple sets.
What Are The Benefits Of Adjustable Dumbbells?
The primary benefits of an adjustable dumbbell set include:
Easy to use
They save space (one pair can replace over 20 pairs of dumbbells)
Most adjustable dumbbells allow you to use small weight increments, such as 2.5 lb or 5 lb.
They come with a range of max weights depending on how heavy you want to go
You can use them for a wide variety of exercises
More portable than standard dumbbells
What Are The Cons Of Adjustable Dumbbells?
Despite the advantages, adjustable dumbbells are not without their disadvantages. These include:
Some adjustable dumbbells are generally larger and longer than regular dumbbells, restricting movement in some exercises.
Adjustable dumbbell mechanisms might get broken or stop working as intended
Adjustable dumbbells come with a set weight limit, which might not be enough down the line
In addition, adjustable dumbbells are not cheap.
You can expect to spend several hundred dollars to own a pair. If you want a heavier set (>50 lbs), you might pay upwards of $600.
Another disadvantage is that adjustable dumbbells work using a mechanism. While not a common issue, there's no guarantee that the mechanism for selecting and adjusting the weight will work forever.
If it does break, you'll have to contact the manufacturer or buy a new set.
What's Better- Standard Dumbbells Or Adjustable Dumbbells?
If you are looking for maximum convenience, having a large stack of fixed-weight dumbbells is better. It is much easier to pick up the weight you need, put it back, and pick up a different weight rather than having to adjust the weight on each dumbbell every time.
Also, multiple people can use dumbbells simultaneously, which is not possible with one pair of adjustable dumbbells.
However, having fixed traditional dumbbells come with a cost. You will need an entire dumbbell rack (especially if you want to use heavy weights) which takes up a lot of space and is costly.
If you want to save space and money, adjustable dumbbells are the better option. You can get a complete set of weights for the price of two or three fixed-weight dumbbells.
An adjustable set of dumbbells can replace 10+ pairs!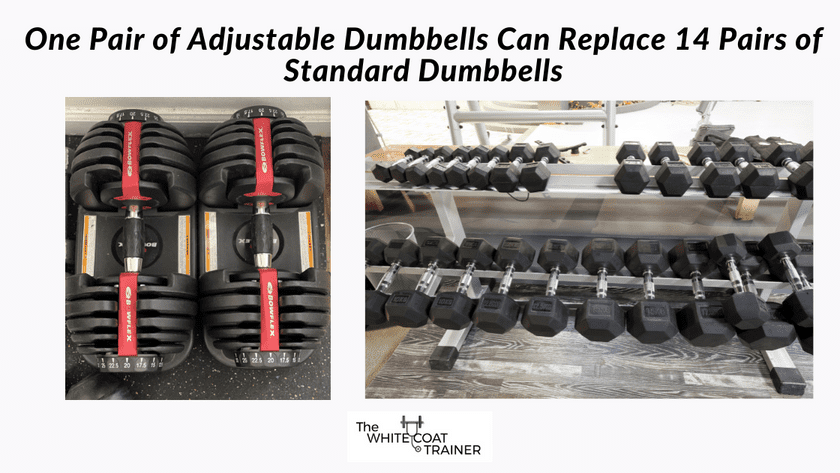 Can You Build Muscle With Adjustable Dumbbells?
Yes, you can build muscle with adjustable dumbbells because they offer a wide range of weights to challenge your muscles.
Any type of resistance training can help you build muscle when used properly. The best way to build muscle with dumbbells is to follow a progressive overload program. 
This means gradually increasing the weight, reps, or sets over time to force your muscles to adapt and grow.
If you keep challenging your muscles with progressively more stress, they will continue to grow larger and stronger in response.
How Heavy Do Adjustable Dumbbells Go?
The heaviest adjustable dumbbell on the market goes up to 165 lbs per dumbbell.
However, this is not the norm. Most adjustable dumbbells have a weight limit of 90 lbs per dumbbell.
The vast majority of them cap out at a maximum weight of ~50 lbs.
What Increments Should I Increase Dumbbell Weight?
You should always increase your dumbbell weight using the smallest increment possible.
Ideally, you should increase the weight by 2.5-pound increments per dumbbell when you can complete the desired number of reps for an exercise with good form.
The major advantage of adjustable dumbbells is that you can make these small increases in weight without having to buy a new set of dumbbells.
When Should I Increase The Weight Of My Dumbbells?
Increase the weight of your dumbbells when you can complete the desired number of reps for an exercise with good form consistently and with relative ease.
You should follow a "2 for 2" rule if you are a beginner.
In other words, when you can complete 2 more reps than the desired rep range for 2 consecutive workouts, you can increase the weight.
What Are The Best Adjustable Dumbbells?
According to Coop from Garage Gym Reviews, the best adjustable dumbbell is the PowerBlock Pro Series.
He has just about every single dumbbell on the market, so he certainly knows what he is talking about.
Other fitness enthusiasts also choose PowerBlocks as their top pick.
What About The Best Budget Adjustable Dumbbell?
According to Coop, the best budget adjustable dumbbell is the Bowflex 552.
These are the ones I have, and I love them!
All of them are available on Amazon.
Are Bowflex Dumbbells Worth It?
Bowflex dumbbells are worth it. The Bowflex Selecttech dumbbells are the OG adjustable dumbbell.
They are well-made, durable, and allow you to train in small increments from 5 lbs to 52.5 lbs. The grip is also extremely comfortable.
I have had mine for two years with heavy use, and they are still in excellent condition.
The main downside of Bowflex dumbbells is that they are pretty long, even at the lighter weights. As such, they can be cumbersome for some exercises.
The Core Home Fitness brand fixed this issue.
I don't mind the length at all.
If you would like a heavier set, they also offer a pair that goes up to 90 lbs.
Other Related Questions
How Do Adjustable Dumbbells Work?
Adjustable dumbbells work with an elegant mechanism.
The dumbbell handle sits in a cradle or a base with weight plates on each side. The dumbbell then has an adjustment mechanism in which you use a pin, dial, or lever to choose the number of plates that will attach to the handle.
The surplus weights remain on the base. Returning the dumbbell is as simple as slotting it back onto the base, ready to be adjusted for the next set or exercise.
You can adjust the weight in small increments, usually 2.5 – 5 lb per dumbbell.
The great thing about adjustable dumbbells is that you only need one set to cover a wide range of weights, saving space and money.
Why Do Adjustable Dumbbells Feel Heavier?
There are a few reasons why an adjustable dumbbell might feel heavier than a fixed dumbbell.
First, your body is apt to notice changes. Because the dumbbell is different from a traditional dumbbell, you might psychologically feel that it is heavier.
Secondly, many adjustable dumbbells are bigger and bulkier than fixed dumbbells. This might make them feel heavier in your hand.
Lastly, you need to ensure that the weight is evenly distributed on both sides of the handle. It is possible to create an unbalanced weight distribution and place more weight on one side of the dumbbell if you are not careful.
What Exercises Can You Do with Adjustable Dumbbells?
In general, any exercise that you can do with regular dumbbells can be done with adjustable dumbbells.
All types of home workouts will benefit from a pair.
The exercises you can do include
I also hold a dumbbell between my legs to do weighted pull-ups and dips.
Do You Recommend The Cast Iron Adjustable Dumbbells?
I do not recommend the cast iron loadable dumbbells that use metal plates with a lock and collar.
I had a pair of these, and they are too cumbersome to use. Although you have more freedom to load heavier weights, the process of adjusting the weight is too slow.
The best option is to use a modern adjustable set due to the ease of use.
There are many different types to choose from, including:
Bowflex
Powerblock
Core Fitness
Nordictrack
Ativafit
Flybird
Nuobell
And more.
So, Are Adjustable Dumbbells Good For A Home Gym?
Is it worth buying adjustable dumbbells? Absolutely.
Adjustable dumbbells cater to the home workout market.
So, if you enjoy working out at home and don't have much space, these dumbbells are a great investment.
The main benefits are that they are convenient and space-saving due to their compact design and are easy to use.
If you have the cash and like the benefits that adjustable dumbbells have to offer, there's nothing that should stop you from buying a pair.
Now I want to hear from you.
Would you use a set of adjustable dumbbells in your workout routine?
Or do you prefer to use a standard dumbbell?
Comment below and let me know.
Other Related Posts
---
---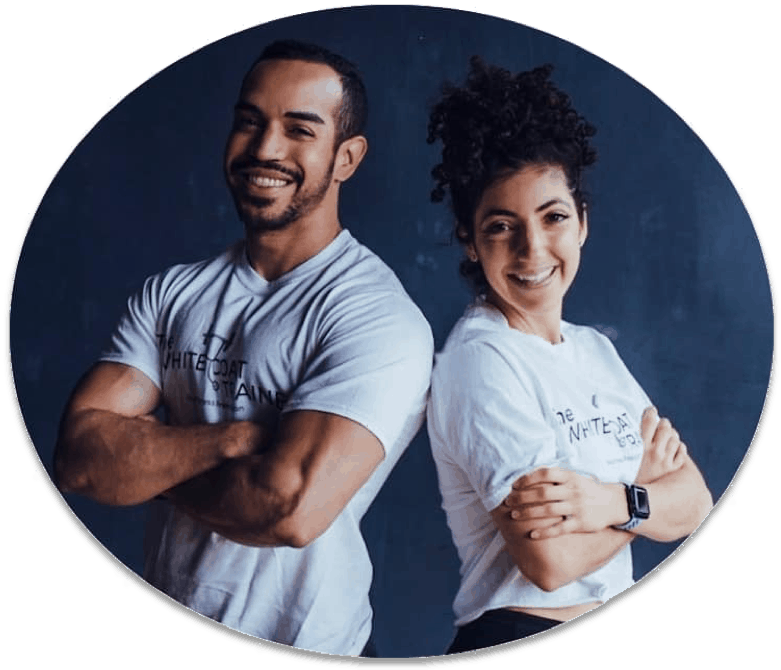 Alex Robles, MD, CPT / Brittany Robles, MD, MPH, CPT
Alex & Brittany Robles are physicians, NASM Certified Personal Trainers, and founders of The White Coat Trainer: a resource dedicated to improving the health and fitness of busy professionals using time-efficient strategies. Their advice has been featured in My Fitness Pal, Prevention, Livestrong, Reader's Digest, Bustle, The Active Times, and more. Learn more about them here.
---