The White Coat Trainer's Best Calisthenics Exercises For Your Entire Body E-Book!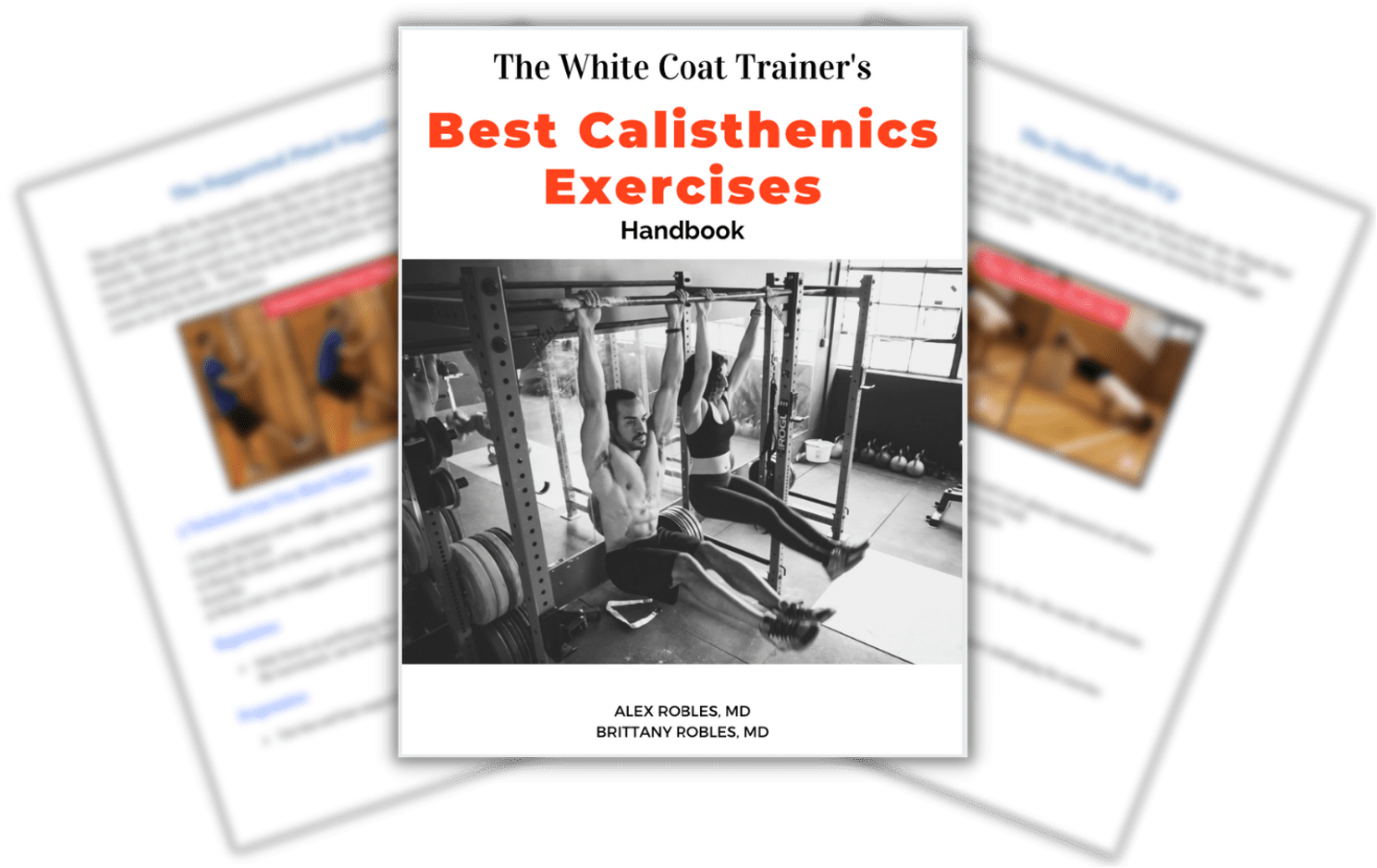 Never worry about what exercises you should do again…
We put together this list of all the best bodyweight exercises to help you build muscle and gain strength as quickly as possible! That way you don't have to waste your time on fluff or guesswork.
You don't need hundreds of exercises or complicated workout plans.
What you need is a simple plan that uses only the best exercises to train your muscle groups efficiently.
My name is Dr. Alex Robles and that's my wife, Dr. Brittany Robles. We are both doctors working 80+ hours a week.
Just like you, we are busy and can't afford to spend hours working out.
We had to learn the best exercises to maximize our workout.
We learned that…
80% of your results are obtained from 20% of the exercises you do
Many gyms and infomercials like to advertise their new exercise machines and fancy equipment. Unfortunately, many of these machines (along with the exercises they train) are not a great investment of your time. They are simply distractions.
You are much better off focusing your efforts on tried and true exercises that build a functional, well-rounded physique.
By focusing on these exercises, you will get the biggest return on your investment.
You downloaded our template because you're serious about your fitness.
I also know that you're busy and that you want the best results possible in the least amount of time.
That is why…
This e-book eliminates the fluff
You will learn how to train your entire body with just your body weight and some inexpensive equipment with 8 functional movement patterns.
Plus, you will learn how to modify each movement pattern to fit your skill level.
You never want to do exercises that are too easy or too difficult for your current capabilities!
What's Included in The E-Book?
The most efficient exercises for all the major muscle groups in your body
A step-by-step description of how to do each exercise properly
Key mistakes you need to avoid to ensure that you get the most out of each exercise
Both progressions and regressions for every exercise.
So If You're Ready To Get Started Today, Click Below!
If you follow these exercises along with the workout template in your inbox, you should begin to see results in weeks instead of months.
It's Time To Take Your Fitness To A Whole New Level
---